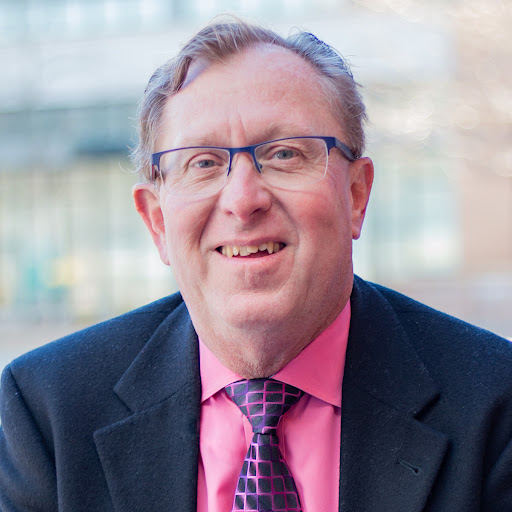 Newcomer Fiarito hopes to add parent perspective, trades to District 214 school board
On the ballot of the District 214 (D214) school board election, Frank Fiarito is known as, well, Frank Fiarito. However, in the lunchroom and playground of District 26 (D26) Prairie Trails School — where he volunteers during his lunch hour to help out — Fiarito goes by something else entirely: Ketchup Man, Pretzel Man, Mr. Frank, DJ Frank or Mrs. Frank, among others.
While the origins of most of Fiarito's nicknames are unbeknownst to him, the story of Pretzel Man comes from a specific interaction with a student on the autism spectrum: the two bonded over a mutual love of pretzels.
Now, each time they interact, Fiarito is affectionately known as Pretzel Man. This greeting, Fiarito says, is always accompanied by a big smile on both ends.
"It's great," Fiarito said. "I can be really goofy, so I think it lends itself to being a big kid with little kids."
Fiarito is currently a River Trails D26 school board member, and he has served as such for 12 years. As Fiarito's youngest daughter graduates eighth grade from River Trails Middle School and heads to John Hersey High School, Fiarito decided he was ready for a new challenge, especially because he is the only one out of seven school board members to currently have children in D214 schools.
With this parental perspective, he hopes to move alongside his daughter to D214 schools, where he can employ his volunteer experience at Prairie Trails and unique perspective as a parent of students still in-district.
Another time while volunteering, Fiarito spotted a little girl crying on a park bench, so he approached to inquire if she was OK. As he went to sit down, the girl moved her legs, which sparked a series of highly unfortunate events as Fiarito flipped over the back of the bench, hitting his head on the curb and breaking his nose on his boombox.
Though he doesn't hope to replicate the nose-breaking experience, Fiarito understands the value in reaching out. Like sparking a conversation with the little girl on the playground, similar conversational and mediation techniques could come into play in a potential role on the school board.
"Listening is a big key," Fiarito said. "Everyone has opinions; everyone has thoughts. It's good to be a good listener and reach out to parents who might have differing opinions."
Fiarito also sees a need to increase trades-related groundwork in high schools. While the career pathways program is greatly stressed in D214, he feels that it is important to acknowledge the wide spectrum of postsecondary options available to students as well.
In the same way that students planning on attending college have many chances to "get ahead" through AP courses, dual credit classes or programs like the Certified Nursing Assistant (CNA) certification, Fiarito sees a gap in terms of putting young adults entering the trades in a similar position, especially from firsthand accounts of his nephew.
For example, students might plan on going to Harper College to obtain certain certifications. However, D214 doesn't have teachers who can act as the first steps in obtaining said certifications in many different fields. Fiarito hopes to take steps in aiding teachers to get accreditations so that they can further widen the paths that students are going to embark on.
Additionally, Fiarito says, the acquisition of land in Arlington Heights by the Chicago Bears is a big topic that the school board needs to be aware of in terms of potential D214 funding and the possibility of an influx of students. So far, the board has ensured that they have lobbyists at discussions to advocate on their behalf, but Fiarito wants to ensure that action, in all regards, stays proactive rather than reactive.
"I applaud the current board for speaking out at a school board meeting and saying, 'Hey, we need a seat at the table," Fiarito said. "Because if everything goes as planned, we don't want our district to be short-changed."
Fiarito believes that, alongside the rest of the board, skills as a parent and active community member are the best course of action in achieving this. His eldest children will be voting for the first time in this election, and his 14-year-old daughter hand-drew a button in support; he hopes that he can continue to harness this positive energy for the betterment of the entire district.
"My experiences have been great, but … no school board or school district is perfect," Fiarito said. "But you know what? We can all do our part to make the schools better."
The email you enter will not be displayed on your comment.