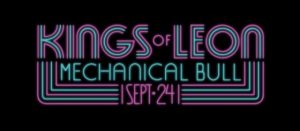 By Beth Clifford
Staff Writer
When artists release new music, it's usually more of the same or radically different. For example, Drake's new album Nothing Was the Same is, ironically, exactly the s
ame as his others: boring. Miley Cyrus's Bangerz is obnoxiously experimental to the point where critics are questioning her mental sanity. As an artist, therefore, it is extremely difficult to find the perfect medium between old and new. Kings of Leon found this balance in their new album Mechanical Bull.
Released September 24th in the states, Mechanical Bull was instantly a hit. It has already hit the top three album rankings on Billboard Top 100, as well as number one album in countries like the UK, Australia, and New Zealand. The immense popularity is far from surprising. Mechanical Bull offers a unique sound compared to both mainstream radio music and Kings of Leon past albums, making music fans all around the world eager to listen.
In Mechanical Bull, Kings of Leon ingeniously combines 80s rock with modern gospel, pop, and country. That way, the audience expands from the sixty-year old man still living in his glory days all the way to the social-media inclined teenage girl like myself.
The guitar strings stand out at the beginning of multiple songs on the album, grabbing the listener's attention immediately. I happened to listen to the beginning chords of "Wait for Me" for the first time as I was driving down a long country road. Within the first eight seconds, these guitar chords created a hallucination as if I was the star of an emotional music video. It had me belting the lyrics the whole way home.
What makes Mechanical Bull different from their previous albums is how much more lighthearted the songs are. In their 2010 song "Pyro" from Come Around Sundown, Caleb Followill sings as the melody runs dark and slow, "All the black inside me / Is slowly seeping from the bone / Everything I cherish / Is slowly dying, or it's gone."
Comparatively, in "Comeback Story" from Mechanical Bull, the lyrics read, "I walk a mile in your shoes / And now I'm a mile away / And I've got your shoes." These lyrics seem idiotic at first. They're much lighter and much more simplistic compared to "Pyro" lyrics, which can scare off the deeper thinkers. However, the lyrics are still contemplative enough so that the listener (even the deepest thinker on this planet) has to replay it a few times to get the full effect.
Provoking the common listener's emotions by using less complex language was an obvious goal for Kings of Leon in this album. Mechanical Bull expresses themes of love, heartbreak, and revenge by using simple, metaphorical language to make the songs relatable and meaningful to the common listener.
Most musical experts compare Kings of Leon to U2. I would agree with this comparison; however, with this upbeat album Kings of Leon sounds more like a manlier version of Mumford & Sons. The only difference is that Mechanical Bull's songs don't all sound the same, which is another admirable aspect of this specific album.
Kings of Leon used to be known for slower rock tunes that are hard to distinguish from each other, similar to the uniformity in all current Mumford & Sons songs. In Mechanical Bull, however, there are only two slow melodies on the twelve song track. One of them is "Beautiful War," a song so beautiful, indeed, that it could put a heart-broken bachelor to tears.
If you haven't listened to Mechanical Bull yet, I highly recommend doing so. Let Followill's raspy voice emotionally drown you. Cry a little. Dance with your friends. Pretend you're in a music video. Have fun with it, because this fantastic Kings of Leon album is definitely worthy of your emotions.