Magic Cookie Bars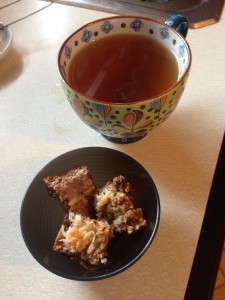 By Eva Schacht
News Editor
Do you like magic? Do you love cookies? Can you learn to like bars? If the answer is yes, then you're in luck! This simple recipe requires little to no effort and can be done in about half an hour! These 110 calorie bite-size snacks are sure to fill up that quick chocolate craving you've been having or that midnight snack you need to indulge in.
Magic Cookie Bars
1 stick margarine
1 cup Graham cracker crumbs
1 cup semi-sweet morsels
1 cup butterscotch morsels
1 cup shredded coconut
1 can sweetened condense milk (poured on top)
1 cup chopped pecans
Preheat to 325. Melt butter in a pyrex casserole dish or a nonstick baking pan. Layer ingredients in order as listed above. Bake at 325 for 25-30 minutes or until chocolate is completely melted. Let cool for 10-15 minutes on a cooling rack. Cut into squares. Serve with milk, coffee, or tea.