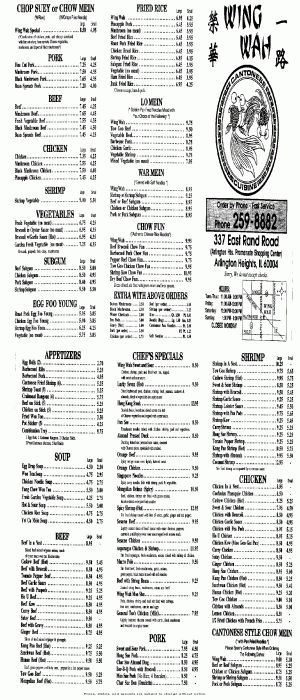 By Mary Kate Moloney
News Editor
Every year at the beginning of December, I am faced with the same question, where to go for my birthday dinner? This choice varies every year, as a child it seemed that I craved the ever so gourmet McDonald's. Over the years my taste buds matured a tad and I went with Rokbanki, which provides delicious food and a show. But this year there wasn't even a choice, I had to go with my favorite, Wing Wah.
This seemingly typical Chinese restaurant located in a strip mall on Rand and Arlington Heights Road allows you to dine in or even take out. There are about 8 tables in the whole place and usually one or two are filled during the dinner "rush". The Chinese decor consists of a couple dragons here and there and a big piece of red fabrics swooping from one side of the ceiling to the other.
Every venture I make to Wing Wah I get the same 3 things: egg rolls, pot stickers, and beef fried rice. With this trio you can never go wrong. The egg rolls always arrive at your table first, they come in orders of two. You can always expect a crispy outside and a warm inside, they are the very best I have ever tasted, especially when paired with their homemade sweet and sour sauce.
The next thing to arrive is the potstickers. Let me just say that I am the connoisseur of potstickers, yes this is a self proclaimed title, but when they are a major food group in your diet, you know when you taste a well done sticker. Wing Wah's are steaming hot when they arrive at the table. The rice vinegar, soy sauce combo compliments the dumpling perfectly.
By the time the fried rice arrives you only have room for a couple spoonfuls. This is okay though, because it is just as good heated up the next day. You get a huge portion for the amount you pay, which makes for excellent leftovers.
It can be 11 in the morning or ten at night and the same Chinese women will be the waitress. Although she doesn't make small talk or eye contact at all, she will make sure your drink is always filled and that you are satisfied.
Some may see the small quarters and the quiet waitress as a downfall but really it's all part of the experience. The consistently great food and convenient location make this one of my go to places for any occasion.