Poms hopes for big turn out for Turnabout with 'Gatsby' theme
By Eva Schacht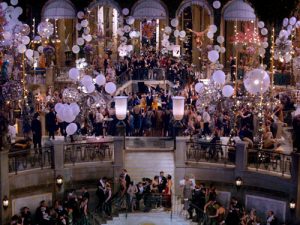 News Editor
Eleven years ago, when Poms coach Courtney Fleaka started to host Turnabout, 1200 people came. Ever since then, the numbers have kept dwindling, and last year, only 300 people showed up.
According to Poms member and junior Mikylah Chidester,  last year was the lowest number of people that have ever showed up to Turnabout in Prospect's history.
"We're nervous [this year] as to if a lot of people are going to go since school spirit has been really low lately," Chidester said. "It's been declining as years go on."
Chidester has seen a decline in school spirit primarily in basketball and football games. While there was a huge turnout Wednesday, Feb. 26, for the MSL basketball title at Fremd, Chidester believes the only reason there was a huge turnout was because of the free t-shirts.
"There are a lot of fans and we have good school spirit at times, but it hasn't been as big lately," Chidester said.
This year's Turnabout will be on March 8 in the cafeteria. Tickets will start to go on sale the week of the dance, March 3, and will cost $10.
High school dances have been adopted through social media as an event to see who can "jersey turnpike" and get as rowdy as possible.
Contrary to that belief, Turnabout originally had a more promising message.
Started in 1937, comic strip character Sadie Hawkins would go around on a given day and ask single bachelors in her community to a dance, in hopes of getting married. Turnabout may also be called a "Sadie Hawkins dance." The dance was later called "turnabout."
The theme of this years dance is "Great Gatsby." According to Chidester, the cafeteria will look like the party scene from the movie "The Great Gatsby."
English teacher Rebecca Hagberg-Cohen believes that "Gatsby" is a wonderful theme for a high school dance.
"Gatsby's parties are high energy parties, and I believe it's a great idea, frankly," Hagberg-Cohen says.
This is the first time Hagberg-Cohen can recall in her 22 years of teaching at Prospect that the theme of a high school dance based off of such a classic novel.
Poms started to notice that people really like "Gatsby", and that was how the theme was decided. Sophomore Clare Schroeder originally brought up the idea for "Gatsby."
"At first, our whole squad liked the idea [of Gatsby], and as we talked about it more, [students thought] it was such a cool idea," Chidester and Schroeder said.
Poms posted the idea on Facebook and asked students their opinions on what the theme should be.
Chidester and Schroeder believe that people really started taking an interest in "Gatsby" because the movie was released May 10, 2013.
"[We've noticed that] people are really interested in [Gatsby] and that time period," Chidester said.
However, after much planning, Poms has a fear that the work that they put into the dance won't reflect in the turnout of students.
"We're kind of worried," Schroeder and Chidester said. "Homecoming was such a success, and I don't understand why people wouldn't want to come [to Turnabout]," Chidester and Schroeder said.