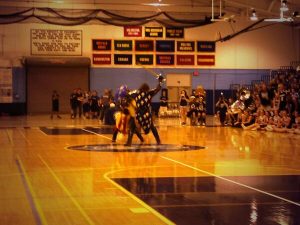 By Shreya Thakkar
News Editor
Social science teacher and head of Peppers, the club that plans pep assemblies, Michelle Fonsino has been pushing to move the pep assemblies from taking place after school, to between first and second period for a few years now. It was not until after poor senior attendance at the last few assemblies when Associate Principal Greg Minter approved the change.
The spring pep assembly on April 4, 2014, and all thereafter will be held between first and second hour.
Fonsino's primary reason for advocating for this change was to increase attendance. As always, attendance won't be taken at pep assemblies, but Fonsino still expects the attendance numbers to rise from 500 to the 2000s.
She hopes more students will appreciate the work that goes into planning the assemblies, including surprises, giveaways and class competitions. Students in Peppers plan the assembly down to the minute, and make sure all clubs and sport receive the recognition they deserve.
"From our band, to our speech and debate teams, to our athletic program, we just have so much to cheer for," Fonsino said. "and if people don't [attend pep assemblies], it seems that we're not recognizing what we should. We should be recognizing our school, and if we're all in one place at one time, we can really let that spirit show."
Sophomore Ariel Maret, who has been attending pep assemblies, has mostly positive views about the new change.
Although she believes the concept of "forcing school spirit" is a bit odd, she thinks students should be attending the assemblies regardless.
"[School spirit] shouldn't necessarily have to be forced upon you, but I think you should still attend," Maret said. "It still is your school, even if you don't like it. Compared to other schools we go to a pretty great school, so even if you don't want to be happy or peppy all the time, which I understand, you should still [come out and] show support."