Intergenerational Prom entertains youth and old alike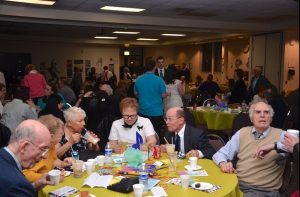 Kathleen Ryan
Staff Writer
This Saturday, April 12, the district is hosting an inter-generational dinner and dance party.
Students from any District 214 high school and people in the suburbs from any older generation are welcome to attend.
This is a great way for grandparents to have a good time with their grandkids, but people from older generations don't have to be related to the students to attend.
This 20-year tradition was started as a way to unite all ages with a night full of dancing and fun.
Dave Jacobson, Service Club supervisor and one of the organizers of this event, said, "People always have stereotypes.  Older people have stereotypes about younger people and vice
versa…It's just a way to bring the generations together…[and] hopefully…see that everybody's pretty normal."
The dinner and dance party will be held at Forest View Educational Center, 2121 S. Goebbert Road, Arlington Heights, from 6-10:30 p.m.
Tickets are $15 for adults and $5 for students.  One ticket includes dinner, show, and dancing.  They can be purchased from Jacobson in room 109.
This year the "prom" is Mardi Gras themed, so show up wearing your best gold, green, and purple masks!