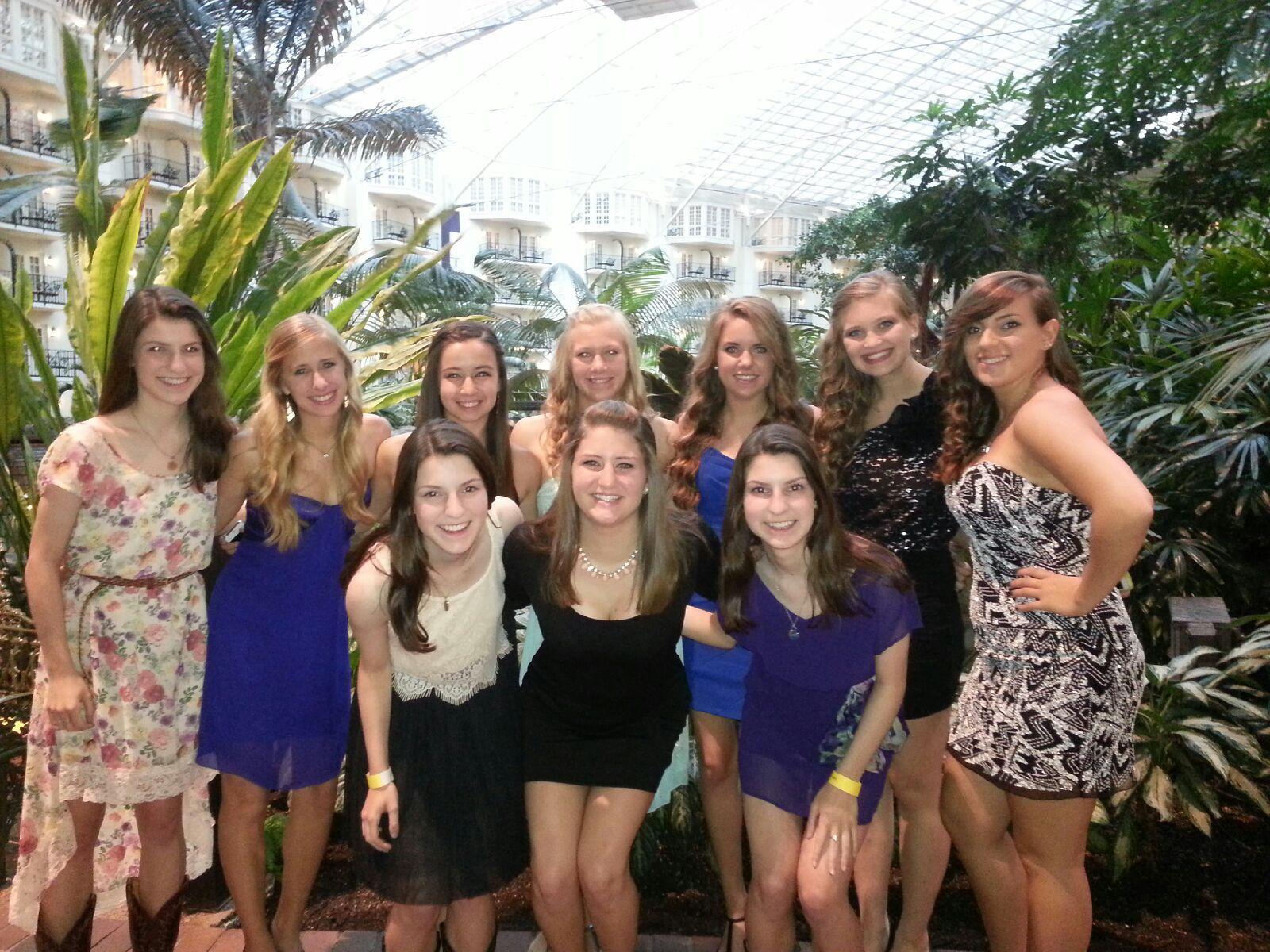 Nabi Dressler
Editor-in-Chief
Senior Emily Gonyon joined Family, Career and Community Leaders of America (FCCLA) her freshman year because her friend told her to go to the first meeting. Since then, Gonyon has placed first at regionals and state all three years — once for Personal Child Care Provider and twice for Career Investigation — and won second place in the nation her sophomore year for Career Investigation.
Most recently, Gonyon won first place in the nation with a perfect score of 100 points for Career Investigation at FCCLA's "Discover Your Voice" National Leadership Conference. The conference, which took place July 7-11 in Nashville, Tenn., was attended by nine Prospect competitors out of over 7,000 total attendees.
Seniors Tori Bruno, Sam Kestler and Sarah LaCost won fifth in the nation for their Chapter Showcase. Junior Lauren Becherer won sixth place in the nation for her Focus on the Children project. '13 grad Emma Heisler won second place for Teach and Train.
Gonyon chose to investigate nursing because she wants to be a nurse. She created an electronic portfolio on her iPad prior to the conference and presented it at the competition.
Gonyon worked on the project for at least a few hours every weekend of the entire year, changing it a little in between regional, state and national competitions. Her portfolio included a research paper on nursing and personal experiences she had; she shadowed and interviewed nurses and toured hospitals. Out of her perfect 100-point score, 10 points were for simply being on time to the competition, making her portfolio the correct number of pages in a readable format, and so forth. The other 90 points were for content, like the ability to put together research, how family consumer sciences factor into the project and the oral presentation.
Junior Frances Ponicki and her sisters, Mary and Theresa, won second in the nation for their Chapter Service Project Display, which was also created throughout the year. It was their first year in FCCLA and their first time competing at this level.
The triplets chose to work together at the beginning of the year.
"When you're working on a group project it's much easier if the people you're working with, you're around constantly," Ponicki said. "We work very well together as well."
The Ponickis' project centered around organizing a Christmas party for less fortunate families. The party was at the Holy Family gymnasium in Inverness and included families of the Preservation of Human Dignity Society (PHDS). Ponicki said the goal of the part was to give the families "a Christmas experience similar to the one we may experience ourselves."
The party featured activities like face painting, basketball, decorating gingerbread men and making ornaments. All the games had prizes and there were raffles for toys. The Ponickis also helped prepare food for the attendees and children got to take a picture with Santa.
The planning that went into the party was extensive, as the Ponickis spent months organizing everything and setting up/attending meetings with the PHDS. They filmed a video of the PHS preschool singing Rudolph the Rednosed Reindeer and edited it. They wrote a 10-minute speech about their project for the actual competition, and made a trifold board to present, too.
"When we found out we came in second, it was like all this hard work we had been going through had paid off, all those days after school and late nights putting our project together," Ponicki said.
Besides the competition, the conference offered different workshops and had a room equipped with educational vendors, a texting and driving simulator and a photobooth.
The girls also got to see Carrie Underwood at the Grand Ole Opry and sightsee in Nashville.
"It's really cool to be able to go to downtown Nashville with a bunch of friends from school and just hang out and get the whole vibe from Nashville," Ponicki said.
To participate in FCCLA competitions, students must join the FCCLA club. To join FCCLA, students don't have to take a certain class. According to Ponicki, people usually find out about FCCLA through Foods or Preschool, though. FCCLA has culinary, technology, fashion/merchandising, interior design and education events, according to FCCLA sponsor Lisa Curtin.
Students can contact Curtin for more information about FCCLA. The first meeting is September 4.
Gonyon said some FCCLA members are more invested than others, so there are two levels of projects, with one just getting to the state level, not nationals.
"[FCCLA] is definitely easy to jump into," Gonyon said.