New app development class to be offered next year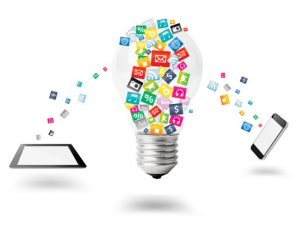 Shreya Thakkar
News Editor
Prospect will be offering an app development class next year to all grade levels by teaming up with Mobile Makers, a startup company.
According to Career and Technical Education (CTE) teacher Frank Novak, CTE teacher Paul Hennig heard about Mobile Makers and went to visit their shop downtown. Hennig learned that the company offers a eight-week bootcamp costing $9000 to learn how to build an app.
Due to the two million programmer shortage in the American economy, Mobile Makers was looking to expand their program for high schools. As a result, on May 12, Hennig and Novak are taking a five-week leave from teaching at Prospect in order to take the Mobile Makers course in app development from 9 a.m to 5 p.m in the city to be able to teach the class next year.
Novak looks forward to teaching the new class with Hennig because he believes coding and technology is gaining popularity and is crucial for students to be educated in to be successful in a variety of professions.
"We're looking for the next thing," Novak said. "The district has been rewriting the computer science curriculum trying to find the best fit for what's going on in today's world."
In the class, students will learn how to build and design apps for iOS along with an entry-level understanding of core iOS and software engineering. Before students create their own apps, they will practice recreating popular existing apps such as "Flappy Birds," using MacBook Airs that each student will receive to use during class. The apps students build later on will be marketed as well.
The new class has generated excitement not only from teachers but from students, such as sophomore Marisa Romanelli.
Romanelli and her mom both found out about the class through an e-mail from CTE department head, Jovan Lazarevic, on Jan. 31, introducing the new app development class for next year.
Although Romanelli wanted to take it her junior year, she couldn't due to the lack of room in her schedule. She hopes to take it senior year because of the computer-science passion she discovered as a part of Science Olympiad.
"It just seems like something interesting to learn." Romanelli said. "Especially since I spend a lot of time with technologically-inclined people."
As of now, roughly 110 students are signed up for the class next year, and Novak believes it will be a worthwhile experience.
"This is going to be as real as real life can be," Novak said. "They're going to learn that skill and get authentic experience, as well as potentially gaining enough experience .. to be able to keep going with it."