School community best defense against school shooting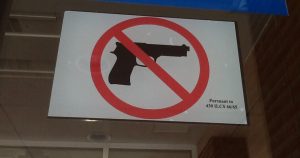 By Eva Schacht
News Editor
Alex Hribal was a typical high school student: well known, smart and had plenty of friends. Hribal never lashed out against any of his fellow peers, that was, until April 9, when he went on a massive stabbing spree, injuring 21 of his fellow classmates at his high school in Franklin, Pa.
The Sandy Hook shooting questioned school security in schools around the nation, and the addition of the Pa. stabbing raised even more more questions. Since the Sandy Hook shooting in late Dec. of 2012, there have been over 20 school shootings nationwide. While schools are safer now than they were 10 years ago with the implementation of heightened security,  the number of school shootings has remained the same since Columbine according to a CNN News Report.
According to school psychologist Jay Kyp-Johnson, what typically sets a student off is a traumatic experience, whether it be a death, divorce in the family or a graduation.
Typically, when students feel rage or the need to lash out against something, they target one specific person or a specific group of people.
According to Kyp-Johnson, people usually target schools because there is usually some sort of rage or madness. When people feel that rage, they look for a source of that anger and that is typically a school or school setting.
"This was a very odd case because [Hribal] didn't target anybody," Kyp-Johnson said. "He just starting running down the halls with a knife and slashing everybody… no one ever suspects a student is just going to break."
A dangerous situation at Prospect can happen at any time, but Kyp-Johnson doesn't see it in the future because of the safe environment Prospect staff tries to uphold.
According to Kyp-Johnson, the administration has regular meetings to discuss safety inside the school. If any staff members ever have a concern about a student acting a certain way, they will always address it at monthly meetings that the administration hosts.
If a teacher feels that a student has had a sudden change of behavior or notices something has changed in the way they act, it will be addressed at the meeting and the student may be taken down to see their counselor.
"We act [on dangerous situations] as quick as we can," Kyp-Johnson said. "We are more likely to have a student tell us something's wrong [before something happens]."
Prospect has a number of different programs to have adults and students more connected with each other, like LINK, Knights' Way and Service Club.
Even though Prospect is well-connected with students in the school, Prospect may not always be in-touch with its' security systems.
Door 30, a popular entrance for students, parents and staff is typically left unattended after school.
According to school security guard Bill Brennan, it's standard protocol for Door 30 to be left open. It's actually standard protocol for all doors to be left open after school.
"There's still security walking through the building even after school," Brennan said. "If we see anybody that doesn't belong, we usually challenge them."
According to Dean of Students Mark Taylor, community groups sometimes have their meetings or events at Prospect, so doors need to be left open.
Until 4:30 p.m., there is usually a "roamer" walking up and down the halls, making sure everything is okay. After 4:30 p.m., there is a full-time security guard in the building at all times.
There are also janitors or custodial staff that stay after school, and if they see something suspicious, they call it in to the security guard.
According to Taylor, in the morning, there are four security guards, at lunch there are eight and in the afternoon there are four. Guards typically stay until their shift is over or they can rotate positions throughout the day.
Whenever somebody that doesn't belong, whether it be a previous alumnus or a parent, walks inside the building, they are always checked out by a security guard officer, making sure they have a proper ID.
"The most important thing that makes Prospect a safe school is the relationships that we have…  it's a close community and people know each other," Kyp-Johnson said. "Prospect is a community [in itself]."