By Marci Kiszkiel
Entertainment Editor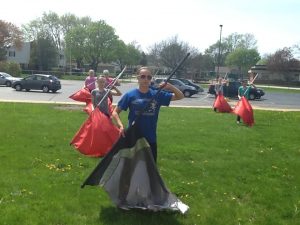 Prospect's Color Guard held rifle auditions Saturday May 10, which lasted from noon to 4 p.m. In order to prepare, the girls have been working on  a technique exercise that involves different types of tosses since February as well as choreography.
The coaches have also held clinics throughout the winter where the girls learned a series of exercises, as well as some practice routines. The staff also expects that the girls practice on their own time.
According to Color Guard coach Christina Barnum, there was also a preliminary audition about a month ago for the girls to see where they were in terms of ability. It is not certain whether there will be a third audition, but Barnum says it would not be a formal one and only if the design team finds it necessary.
Before auditions began on Wednesday at 2 p.m., the girls stretched and warmed up with various workouts such as the tandu exercise for about two hours.
Junior and returning color guard member Danielle McBride believes that practice is the key to succeeding in Color Guard.
"You have to practice a lot… it doesn't come easily at all…Even after three years you still have more to learn each time because you learn a routine or an exercise…" McBride said. "When [the coach] teaches you what to audition [with] it's what will be in the show so it's preparing us for the future, so you really need to practice that to get what he's going to put in the show."
The girls later went outside and demonstrated various skills such as tosses and practicing the warm-up.
Barnum believes the routine is very difficult compared to previous years, and does not expect all incoming members to be experts.
"I would say its very difficult, it incorporates a lot of different technique and it incorporates different kinds of tosses…" Barnum said. "Even [returning members] struggle with the routine because its comparable with what is going to be done in the show."
According to Color Guard coach Will Frankenbeger, Color Guard is a sport that requires a lot of dedication.
"This is an activity where if you're not disciplined and you don't have enough dedication to, you will fail," Frenkenbeger said. "So all of the girls that we've had, especially our veteran members that come back season after season, [are] really disciplined and dedicated girls."
Those on flag line practiced their routine with Barnum, and rifles worked with Color Guard coach Will Frankenberger on various skills like the warm up routine which includes push hits, drop spins, double time, singles, thumb-flips, backhand flips, and tossing, as well as the routine.
Returning Color Guard members, such McBride, also engaged in partner activities in order to help guide the incoming team members. After that the girls divided into two groups where one half worked on flag line and the other worked with rifles.
According to Barnum, it is still uncertain how many girls will be picked for the team and that it depends on what the design team desires.  "It could be different numbers depending on what the designers are looking for, so that's why were just going with a ranking system for now," Barnum said. "So that if the design team says  we need ten people in the beginning of the show, and we need fifteen people in the middle of the show, and we need 20 people in the end of the show then we've got that kind of ranking."