Math team honors prosperous students
By Alyssa Duetsch
Broadcast Editor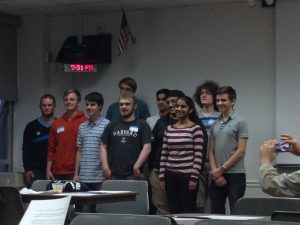 For students on the math team, cake, logic problems and math awards is how they spent their Monday night.
Around seven o'clock on May 19, students on the team, their parents and the teachers in the math department gather in the community room to acknowledge mathematics awards.
Math teacher Michael Grasse stood behind a podium at the front of the room while he proudly stated each award that was won this year and handed out medals, pins and certificates.
The first award to be announced was for the Continental Mathematics League Calculus Contest. Unfortunately, senior Brenna Milligan, the first place winner, was not there to accept the award. However, runner up senior Philip Masini was there along with one of the third place winners along with senior Josh Johnson.
In the next award, junior Marc Graff stood out from the rest of the team. In the American Mathematics Competition, if a student scored higher than 100, they qualify for the American Invitational Mathematics Exam. Graff was the only student to do so. Scoring over 100 in that competition would qualify Graff for the US math olympics team.
Unfortunately, Graff did not score above 100 in that following competition. However, there is no doubt that Grasse has confidence in Graff for next year.
After the competition awards, Grasse proceeded to introduce the members on the math team in each grade and the top three spots in each grade. None of the freshmen were there because they were all occupied with robotics team but sophomores Krzys Chwala and Joanne George were recognized for their top two spots, respectively.
Once again, Marc Graff stood out and was top spot as a junior. Juniors Joe Mitchell was second spot. Juniors Michael Almisry and Ben Szafarz tied for third in the junior category.
Adrian Gunawan, Brenna Milligan, and Michael Monsen were in the top three spots for seniors.
The biggest accomplishment of the math team this year, according to Grasse, was the oral competitions where Senior Michael Monsen qualified for the regional contest. For the other part of the season, Monsen was partners with Adrian Gunawan and they placed eleventh in state.
Monsen also tied for tenth in the league and placed first in the Horwat Division.
At the end of the night, there were empty cake plates, handed out certificates, and smiling faces. Grasse's smile was especially noticeable when he ended the night by saying it is not often to see so much mathematical talent in one room. With all the successful awards handed out and talked about that night, there is no doubt that this years math team was one for the records.