By Diana Leane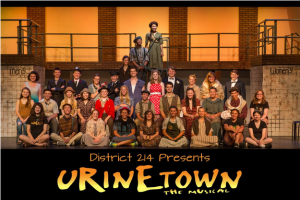 Executive In-Depth Editor
Bodily functions and using the bathroom are not commonly discussed topics, but they are the focus of a large portion of the script in the musical "Urinetown."  It is the first district-wide musical, directed by Prospect teacher Jeremy Morton and Wheeling teacher Stephen Colella and choreographed by Elk Grove teacher Joseph Wolfe.  The cast performed July 9 and 10.
"Urinetown" takes place in a town with a severe water shortage.  Extreme measures must be taken to save the water, and the wealthy live luxuriously while the poor struggle to gain access to the remaining water.
Colella, Morton and Wolfe had tried to create a district-wide musical for four years, and the Talent Development Program (TDP) classes held this summer gave them the opportunity to do so this year.  The musical was not a class, but the start of the classes created an opportune moment to launch the musical.  In total, 45 students joined the musical, 30 of whom were in the cast.  The three lead characters were played by Prospect students: senior James Farquharson, junior Melissa Spacapan and sophomore Ben Marshall.
Junior Natalie Carioti and sophomores John Zach and Abi Linnemann were in the cast. They agree the best part of the experience was meeting new students from other District 214 schools since they don't have such an opportunity during the school year.
The three preferred this production over previous summer musical programs because the directors were more professional — Morton and Colella had ample experience with high schoolers and were unbiased.
Carioti also liked the program because unlike most other summer productions, it had no affiliation with a church.
"Some kids are scared away … because they think [the program is] all church-y, and it gets church-y," Carioti said. "This script is more modern.  [The directors are] not afraid of picking a modern show."
According to Morton, some traditional musicals have the hero and the hero's lover but not many other characters.  Choosing a modern show such as "Urinetown" allowed them to showcase more actors.
"As our first year doing this all-district musical, we really wanted … every student who is on that stage to be part of the show as much as possible," Morton said.