New counselor Nick Olson replaces Dustin Seemann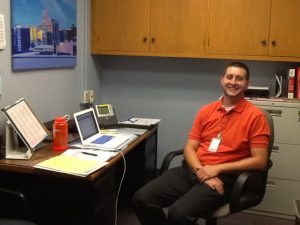 By Shreya Thakkar
Executive Features Editor
Junior Angela Roman was caught by surprise when her parents received an e-mail on July 29 regarding the promotion of counselor Dustin Seemann to Coordinator for Student Services. In his new job, Seemann will be working with all high schools in D214, assisting with activities and services that will benefit students throughout the district.
Nick Olson, who worked as a counselor in Verona, Wisconsin for the last two years, will take over Seemann's old position and looks forward to joining Prospect.
"This school has a huge reputation nation-wide, so I think being a part of a school where students are very dedicated [is great]." Olson said. "A huge selling point for me was that the school that I worked at before had a very involved community and it sounded like it's the same here."
According to Olson, he hasn't met all his students yet because he was preoccupied with creating and fixing schedules.  To fix this, Olsen plans on working most of the football games, being at lunch periods, and getting as involved as possible.
Although Roman had grown accustomed to going to her previous counselor Seemann to seek help, she hopes Olson will now be that person for her.
"Seemann was really easy to talk to and he helped me with most of my problems. [For example,] if I didn't want to talk to any of my friends or anything because I thought they wouldn't understand, I knew he would," Roman said. "Mr. Seemann was the person I went to when I had a problem, so hopefully Mr. Olson will be there when I have a problem."
And according to Olson, this is just what he plans on doing.
"I think just working with kids gives me energy, and it's just something I've loved doing.  You know, being a counselor, helping kids through difficulties in their life, helping them finding the right college, and setting them up for success after they graduate.