Knight knewcomers: Molly Klein
By Beth Clifford
Online Managing Editor
For the 2014-2015 school year, Prospect students are lucky enough to receive four new young teachers. "Knight Knewcomers" is a Prospector feature that allows readers to get to know the fresh faces that will walk our halls with us for this year and many years to come.
Molly Klein
Unlike the new physical education teachers John Joseph and Krystina Leazer, one of the new foreign language teachers at Prospect is not new to the school at all. Molly Klein graduated as a student from Prospect High School in 2002, and she joins us all again today in 2014 as a Spanish teacher.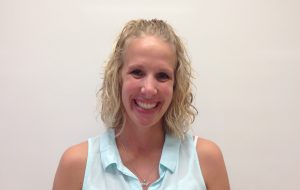 Klein has been teaching for seven years. The first two years were spent at Elk Grove, and the rest in Antioch, Illinois. She got her degree at Illinois Wesleyan, where she also was a two-sport athlete.
While Klein was a student at Prospect, present-day Spanish teacher Leigh Sapp helped her develop an interest in teaching Spanish in the future, but what really convinced Klein to pursue her career was her experience studying abroad in Spain during her college years.
"I knew I always wanted to be a teacher," Klein said. "I originally was going to be a math teacher, but then, there is something about Spanish. I love the culture, and I love being able to communicate with a whole different community."
Aside from teaching Spanish 1 and 3 during the school day, Klein also coaches JV Volleyball in the afternoon. She, along with other Prospect alum Gabrielle Lovin, is building a whole new volleyball program at Prospect. The season has been going well so far, and she is excited to see how the program will develop for the future. In the spring, Klein plans on assisting in coaching the high jumpers and sprinters on the track team.
While she was a student at Prospect, Klein was the over-involved teenager that every Prospect attendee seems to be. Juggling three sport seasons as well as orchestra practices and concerts, Klein liked to keep herself busy so that she would not procrastinate in her schoolwork.
This same habit still seems apparent today, as Klein reenters the Prospect doors, but this time as a dedicated (and very busy) teacher and coach. Klein could not be happier to be back in the welcoming Prospect environment.
"Just walking in the halls, students are super friendly," Klein said. "Everyone is happy to have you here."
Since she is back at Prospect permanently, Klein is running into many of her old teachers such as Keith Bellof, Gary Judson, and Greg Troyer.
"The hardest thing is having to call them by their first name," Klein said. "But it is nice. I loved it here, so that is why I'm so happy to be back."