Escaping the "Ugg effect": Fall shoes
By Rachel Parks
Features Editor
It seems that the cold weather is coming earlier than usual this year. This means that it's time to ditch the sandals, and many girls make the switch right from flip flops to Uggs. There's nothing wrong with Uggs, in fact, I wear them myself quite often. However, the Ugg effect happens when a teenage female has no other options for fall shoes than Uggs, and wears them every day until April.
 
I know it's unbelievable, but there are many different options for comfy shoes that are fall appropriate, and they aren't all different colors and styles of Uggs. More importantly, they don't always have to be pricey. Check Nordstrom Rack, TJ Maxx, and DSW to make the transition from Uggs less pricey.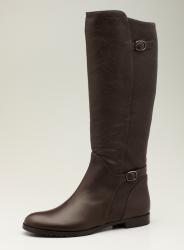 Riding boots:
Riding boots have come back in style in the last few years, and they are a perfect opportunity to make any outfit look put together while still providing comfort. A good pair should hit a few inches below your knee and fit your calf while still having a bit of room.
 
Vans:
Vans are perfect for fall because they are cute but still casual. Darker colors are more fall appropriate, like maroon, navy, and black. Some pairs also have cute patterns, but make sure they aren't too light so they seem more in season.
 

Sperrys:
No, Sperrys aren't just for frat boys. They are easy to dress up or down, and are comfortable too. They can be expensive, but are popular at discount shoe stores which are a better option.
 
Keds:
Similar to Vans, Keds are tennis shoes with a slightly more feminine touch. They too come in fun patterns and colors, another way to add detail to any outfit.
 
Combat boots:
Combat boots are a fall trend to take advantage of. They are comfortable, cute, and most importantly, most shoe stores sell them, and for cheap. Look around before committing because chances are another store will offer a better price for a very similar shoe.