This Is Where I Leave you offers good performances in a Lifetime movie plot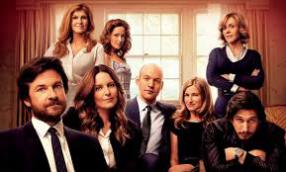 By Garrett Strother
Entertainment Editor
Sometimes a movie equals less than the sum of its parts. This Is Where I Leave You offers a phenomenal ensemble cast all playing fairly well developed characters who unfortunately seem trapped in a made for TV movie.
Judd Altman is a down-on-his-luck former radio producer. His wife is cheating on him with his boss, he doesn't have a job, and his father just died. Following his father's last wish, he goes back to his hometown to spend a week with his estranged family. Sappy subplots and zany ensemble comedy shenanigans ensue as he stays under the same roof with his three other adult siblings, their spouses, and his therapist mother.
Jason Bateman plays Judd first the same annoyed surrogate patriarch role he has been playing since Arrested Development was a TV show that was actually on TV. He plays the role well, in nice contrast to his sister Wendy, played by Tina Fey at her most serious and perhaps her most nuanced. His other siblings are two brothers. The oldest, Paul, is interesting enough but sadly neglected considering he played by the wildly talented Corey Stoll, most well known for his role of demonized congressman Peter Russo of Netflix's House of Cards. The other is the baby of the family, Phillip. Adam Driver uses the cliche man-child screw up role to its fullest potential and steals nearly every scene he is in.
The rest of the ensemble includes Jane Fonda as the frisky, plastic surgery-enhanced Altman matriarch, Connie Britton as Phillip's inappropriately older girlfriend, and TImothy Olyphant's portrayal of the Altman's brain-injured neighbor. Also, Ben Schwartz's frat boy rabbi is about the funniest part of the movie.
All of these performances are fleshed out and three-dimensional, but they cannot obscure the fact that the movie is predictable, sappy, and lacks the emotional impact needed for all their one liners and family bonding.
This Is Where I Leave You would benefit from a few good rewrites and a more experienced dramatic director. Not that Shawn Levy doesn't direct good movies, but the most emotional scene he had directed before this was the moment you realized what a letdown Night at the Museum 2 was.
It's a fine movie, but it just isn't as good as you want it to be.