Knights' Way gives warm welcome
By Jack Ryan
News Editor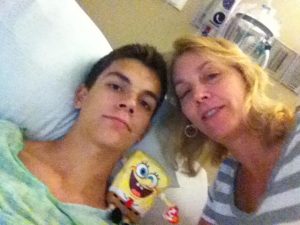 As junior Mike Poulos  pulled up into circle drive Monday before school after being out for a month due to a broken back, he came to open arms from every single Knights' Way Leader at Prospect.
This event was organized by Doctor Jay-Kyp Johnson by him talking to Poulos's mom and seeing how he was doing. Then Poulos's mom told him when he was coming back, so Johnson talked to all the Knights' Way Leaders and asked them if they would welcome them back to school since the situation could have been a lot worse than it was. The reason Johnson asked the Knights' Way Leaders is because Poulos  is one of them.
Another reason Johnson asked the Knights' Way Leaders is that in the past they would great people at the doors and try to uplifts peoples spirits as they would go to school. With that Johnson thought they would be a good group to conduct this event.
Johnson wanted to do this event because he says according to him that they send cards and do events for when teachers come back from being absent, and that they needed to do that same thing on a student level. So he decided to do this for Poulos  since he is a Knights' Way Leader.
 "I think it would be awesome if we could know when a student is coming back to school and they're okay with it that we could welcome them back, and make them feel that we missed them," Johnson said.
As Poulos was walking in to Prospect, senior and Knights' Way Leader Carolyn Mazurek thought the idea of the event was a good idea since they welcomed Poulos with a warm smile, and applauding hands.
She felt that Poulos understood the welcoming aspect they they tried to show him as he came back to Prospect.
Mazurek felt that the event was needed so it would show support to him.
"[The event] is showing great support for someone who has been gone for so long, and that a lot of people didn't know about," Mazurek said. "People were even asking me, 'Why is everyone clapping? Who is this kid?' I think that the biggest thing, that Prospect supports everyone, especially those who have suffered."
As Mazurek thought the event went well, Johnson thought the event could have gone a little smoother, since he thought that him and the Knights' Way Leaders were not prepared. Even though they were not as prepared as he would like, he still felt the idea of the event went well.
"I mean a lot of people have the presence of mind to show up early on a Monday morning wearing their shirts, and ready to shake his hand on the way in, which I thought was nice," Johnson said.