In My Ears- Caroline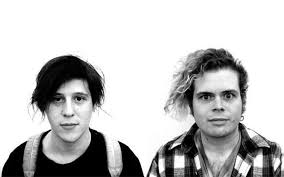 By: Caroline Binley
Copy Editor
Who I'm listening to: Wavves
Favorite track: "Demon To Lean On"
Vibe: Surf rock written by artists who don't seem to care much about anything
Similar to: FIDLAR, The Orwells (read Lauren's blog about them here) and The Vaccines
I can define rock. I can define metal. I can define noise, and I can define pop. What I can't define, however, is noise pop (or most other genres, to be honest). But if Wavves is noise pop, which, according to last.fm, it is, I guess you can consider me a noise pop fan.
Wavves is a San Diego-based music group comprised of Nathan Williams, who started a surprisingly beachy band for someone who doesn't swim, Alex Gates, Stephen Pope and Brian Hill. Since 2008, they've been producing noise pop (again, what is that?), surf rock (an equally confusing term) and music addressed by other names that hold no meaning for me.
Luckily, my grand inability to comprehend music genres has never stopped me from enjoying music itself, and I'm adding Wavves' (maybe) grungy and (definitely) laid-back sound to my collection of things I love but hope I don't have to speak out loud about for fear of public humiliation.
Wavves relaxed chords, rough vocals and odd lyrics seem to embody the lack of caring I wish I could absorb, and consequently, they've become my go-to band whenever I take a rare moment to chill out or (more likely) pretend I care less than I do while battling through piles of homework.
Their popiest song, "Demon To Lean On," first caught my ear when I heard it on 8tracks, and I've been listening to it more than once a day — a dangerous game destined to end with burnout and loathing that luckily haven't crept in just yet — in the weeks since.
My addiction to "Demon To Lean On" hasn't blinded me to the rest the band has to offer, though. I've also killed a good amount of hours with "Post Acid," "Green Eyes" and "King of the Beach" on repeat.
As a bitter California girl at heart, I can't stop Wavves' beachy sound from reminding me of home, and hopefully it reminds the rest of you of something equally great.