'Gone Girl' proves more complex than expected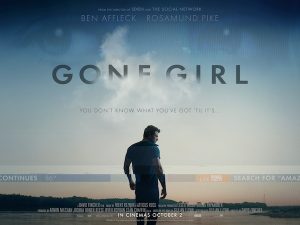 By Rachel Parks
Features Editor
I want to start out by saying that I am a sucker for romance. In any movie, book or TV show, I just want the main characters to end up living happily ever after.
This applies to when I first saw Gone Girl, a mystery film adapted from Gilliab Flynn's 2012 novel, surprisingly named "Gone Girl".
The basis of the movie is that a wealthy man by the name of Nick Dunne is head over heels for his  stereotypical skinny blond wife, Amy, who suddenly goes missing. And, of course, he is accused of murdering her.
I expected the ending to be as stereotypical as it sounds: Amy comes back and they run to meet each other in the light of the sunset.
The movie turned out to have many more twists and turns than I expected. The depth of the characters and layers to the plot were atypical of a film adaption of a book.
A turn that could have ended the movie occurred an hour in, and four or five more after that. I can truly say it kept me on the edge of my seat.
For anyone who likes murder mysteries, suspense, thrillers or anything between, "Gone Girl" was an excellent movie that will keep you guessing from beginning to end.