Big Hero 6 destined to be Disney's new classic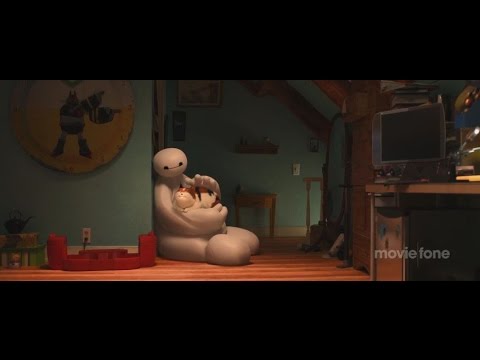 By Flynn Geraghty
Features Editor
I knew I was going to love Big Hero 6 from the second I found out about it. I love Disney for its heart, and I love Marvel for its action. So, when I found out that Disney's next animated feature was based on a Marvel Comic, I was pretty pumped.
The movie focuses on 14-year-old Hiro Hamada, voiced by Ryan Potter, who is a wise-talking robotics prodigy. After graduating high school at 13, he spends a lot of his time hustling men in botfights. His older brother, Tadashi, voiced by Daniel Henney, sees the potential in Hiro and wants him to go to college. Tadashi brings Hiro to his robotics lab at the San Fransokyo Institute of Technology. Tadashi even shows his brother his robotics project– a big, squishy, nurse robot named Baymax, voiced by Scott Adsit. Once he sees all of the amazing things that his brother and his science-savvy friends are making, Hiro agrees that college is the place to be.
To get into college, Hiro must create a groundbreaking invention that proves that he has the ability to push the boundaries of robotics. He invents microbots which can form anything you think of, with the only limit being your imagination. The head of the school's robotics program, Professor Callaghan, is especially impressed by Hiro's invention and welcomes him to go to the institution. However, after a devastating fire at the school throws Hiro into a depression, college is one of the last things he is worried about.
Sometime after the event, Hiro accidentally awakens his brother's robot, Baymax, and the two discover that one of Hiro's microbots is being controlled by someone– a man in a kabuki mask to be specific. Hiro immediately associates him with the fire and gathers up a team of friends and swears to catch the masked man and bring him to justice.
My favorite thing about this movie can be summed up in one word: Baymax. This cute, huggable robot is easily one of Disney's best characters. It is almost impossible not to fall in love with this marshmallow machine whose main goal is to make sure that you are happy and healthy. He steals the show in every way possible.
One of the things that really impressed me about the movie is that they showed that mental health is just as important as physical health. And this is something that I think everyone needs to know. It dealt extremely well with things like grief and loss. In a lot of Disney movies, death is just sort of glossed over or implied, but this movie is all about death, and in a good way too. It shows the stages people go through after they lose someone close to them and how it can gravely affect their lives.
Also, the characters that deal with the loss are very likable. Our main character, Hiro, is a relatable and sympathetic boy. All of his friends on his team are great characters. One character I really liked who I didn't expect to was the villain in the kabuki mask. Without spoiling it, let's just say the man behind the mask has a backstory that really makes the movie come together.
The movie is also aesthetically gorgeous. The city the movie is set in is a hybrid of San Francisco and Tokyo named San Fransokyo which is really cool. The way they blended these two colorful cultures into this futuristic metropolis amazes me . Plus, there are some great flying sequences where you get an aerial view of the city and those are really breathtaking. Not to mention, the characters are very well designed. Each one has a different body type and the main cast is racially diverse.
However, while the movie does do well in most areas, there is one thing it suffers from: overcrowding. With both the story and characters, it felt like there was a lot that had to be said, without a lot of time to say it. With six main characters, they weren't all able to get the proper amount of development and time that they probably should've had. Especially the girls on the team. I mean, when I saw the trailers for this movie and saw girls working in chemistry and robotics, I said, "Yeah! Look at Disney promoting women in science! The gods of feminism shall be pleased!" But, despite being active members of the team, they didn't get as many jokes or character development as the men folk did. Well, they weren't fighting crime in bikinis like other women superheroes are, I guess that's something.
Despite it's flaws, Big Hero 6 is a really good movie. I suggest you go and see it. Even if you don't like Disney or superhero movies, it still has a lot to offer and a lot of heart. I'm pretty sure you'll leave feeling satisfied with your care.