Hour of Code promotes programming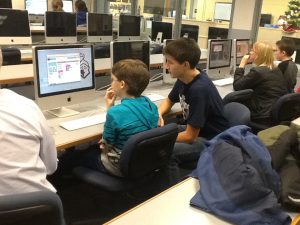 By Katy Ryan
In-Depth Editor
On Wednesday, Dec. 10, students in the App Development classes helped run Prospect's first Hour of Code.
Hour of Code is a basic introduction to computer science that is dedicated to showing students that anyone can learn computer programming. December 8th-14th is Computer Science Education Week, so a non-profit organization called Code.org has created coding tutorials for beginners and encouraged millions of people around the world to set up some time for learning code. Schools sign up to run an Hour of Code at code.org and introduce coding to students by using the tutorials.
"[The goal of Hour of Code is] to expose some of the younger children in our community as well as our own high school students to programming," Associate Principal Greg Minter said. "[It will] help them see to see that it is something that they can do. It's not inaccessible and
hopefully those that like it will continue to do it on their own because it is something that they can do very easily at home."
In the library's computer labs, everyone from kindergarteners to high schoolers spent time viewing these tutorials and applying the basics of code to help create and play games similar to Flappy Bird, Angry Bird, and Pong.
While this is fun for kids to do, learning code can set kids up for a bright future.
"It's a critical skillset to have," Minter said. "There's such a need for programmers in our country. In the next five years we're going to be a million programmers short. If you wanted a job, and a really good job, and a job that pays well, this is the industry."
Prospect offers other ways to learn computer science that can benefit students in the future. According to Minter, some of the computer science classes at Prospect can provide students with the skillset that they might have learned from expensive city "boot-camps" that teach students how to use code. The skills they learn are the same as those needed for an entry-level job as a programmer.
With computer classes like these and the rising need for programming, it's no wonder Hour of Code is a success. Last year was the first official Hour of Code and was deemed the largest learning event in history. It reached 15 million users in five days, and got more girls to try computer science than in the past 70 years (10 million).
Although this was Prospect's first time trying an Hour of Code, it will probably return during next year's Computer Science Education Week since it is so influential.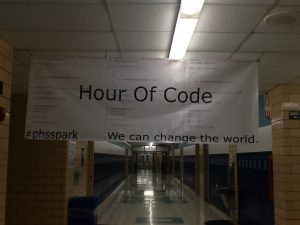 "I think it's important for young kids and high school kids [to learn code] because that skill
is just going to help you in about any career you might have in the future," Minter said. "There's coding involved in all different kinds of careers; it's not just building software programs. Virtually everything we touch now is based on some sort of coding … the more that you understand and the more that you can do, the more marketable you'll be in the future."