District 214 administrators take over Twitter, sass students' Snow Day cries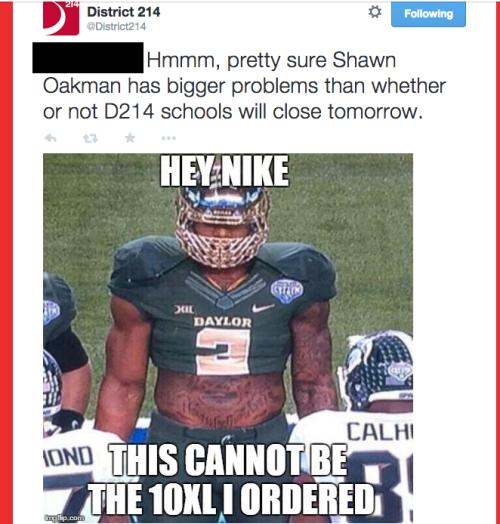 By Beth Clifford and Lauren Miller
Online Managing Editor, Associate Online Editor-in-Chief
Winter is back, and so are students' hopes and dreams for no school. With temperatures expected to reach anywhere from -5 to -35 on Wednesday, Chicagoland-area schools are buzzing with the potential for a "Cold Day."
During the last few periods of school on Tuesday, the buzz extended outside of student-teacher conversation in the classroom and moved onto Twitter. Students began tweeting out to @KnightsofPHS, @RHMSMUSTANGS, @HerseyHuskies, etc. creatively begging for the schools' administrations to cancel school. Some even found a tweet from last year that announced, "Snow day tomorrow!" and started to retweet it again.
Soon after, @District214 (the main district Twitter account) started to respond to the students' mentions. Whoever runs the account didn't just respond with the generic, "We haven't made a decision regarding school tomorrow" however.
@District214 took the student's sassy tweets and responded even sassier. The carefully-worded responses prompted handfuls of more students to join in on the Twitter trend, even creating a hashtag "#StayClassy."
Students roared with laughter in response, retweeting and favoriting every funny tweet that came out of @District214. A handful of parents and people in the community also responded to the tweets positively, mentioning @District214 in a tweet that thanked them for the entertainment.
"I think it's a positive thing overall," Prospect history teacher Jon Kaminsky said. "It creates dialogue between schools, and the kids feel more connected and now actually know that a district office exists."
Some students and teachers, however, feel that the tweets are borderline unprofessional and could lead to conflict.
"I think they are clever, what they are doing is funny," world history teacher Dave Schnell said. "But my only concern is a potential Twitter war."
Regardless, the tweets are definitely gaining student attention for the time being, making fellow tweeters either laugh or cringe while waiting for a decision from Forrest View.
The student tweets and responses are provided below. Click on the pictures to expand them.
It is a reader's judgement call to determine whether the responses are funny or unprofessional, but we think it is safe to say all of us will be crossing our fingers for that Cold Day on Wednesday. If our wishes are not answered, the Prospector will be conducting investigative journalism Wednesday on who is behind the infamous @District214 twitter account.