Violence in "Kingsman" will leave you shaken, not deterred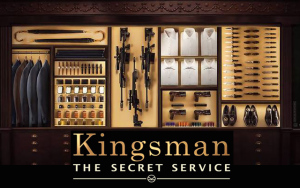 By Garrett Strother
Entertainment Editor
While they may derive their names from the Knights of the Round Table, the titular Kingsmen in "Kingsmen: the Secret Service" are all about Bond, James Bond. It used to seem that 007 was the last gentleman spy, the genre abandoned for Jason Bourne and Jack Bauer. However, "Kingsman" gives hope that the niche's glory days may not be behind it.
Based on the graphic novel by Mark Millar, the film follows British hoodlum Eggsy as he in enlisted into a ring of gentleman spies known as the Kingsmen. Disguised as tailors. the men use their British wit and bullet-wielding umbrellas to combat evildoers across the globe with the utmost discretion. Galahad and Arthur, played by Colin Firth and Michael Caine respectively, are the organization's biggest players. Ultimately Caine is little more than a cameo but Firth steals the film.
The movie has plenty to say about anything from net neutrality to how desensitized to violence society has become. But with so much commentary coupled with having to still be an action blockbuster, the movie tries to have its cake and eat it too.
Samuel L. Jackson plays Richmond Valentine, a lisped internet tycoon and thinly-veiled Steve Jobs joke. His glasses look like Google Glass and his evil plan centers around how much everybody is attached to their cell phones. While a bit hypocritical considering how digital effects heavy the movie was, this commentary is solid and for the most part uniform.
Violence is where the movie gets itself in trouble. For a film about gentleman spies, they do some pretty ungentlemanly things. Not just James Bond pushing a lone assassin off a cliff, but a body count that rivals some small wars. And while the characters in the movie react to the violence as the atrocity that it is, the movie doesn't seem to understand its own message.
Some of the violence is fun, computer animated blood considered. The mind-blowing finale is a perfect mix of violent and fun, it is an action movie after all. However, one scene in particular is a slaughter, with the death and violence glorified in a fast-cut sequence that feels more like watching a ten year old mow down faceless enemies in a video game than the gut-wrenching massacre that it is. Coming from Matthew Vaughn, the director of gore-fest "Kick-Ass", this isn't entirely surprising. But the rest of the movie's message seems to be cheapened by this scene that could have been just as powerful if three minutes shorter.
Manners may maketh the man, but continuity of message does not maketh the action movie. "Kingsman" is still an overall fantastic spectacle. The humor is self-knowing and well spread, the performances blend a mix of acting legends and newcomers, and the occasionally over-zealous action is still fun enough to tide audiences over until 007's "Spectre" hits theatres in November. It's worth the price of admission, formal attire not required.