'Unbreakable Kimmy Schmidt' sings a refreshing song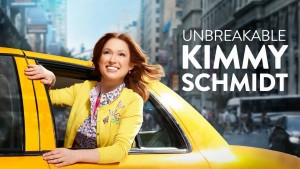 By Garrett Strother
Entertainment Editor

From Saturday Night Live to 30 Rock, writer and comedian Tina Fey has used the city of New York as a canvas and the media as her paintbrush to satirize anything from big business to the nature of celebrity. Fey's latest series, The Unbreakable Kimmy Schmidt, continues this trend. Despite being quirkier, weirder, and unfortunately having 100% less Alec Baldwin than 30 Rock, Kimmy Schmidt still totally works.
The show premiered March 6 on Netflix, and focuses on the titular Kimmy, who – along with three other women – has been brought back into the world after hiding in a fallout shelter for 15 years when a cult leader kidnapped them and convinced them of the impending apocalypse. After heading to the Big Apple to start a new life, the show offers a nice spin on the little fish in the big pond story as Kimmy finds her way through her new life. She finds a job as a babysitter for a nauseatingly rich woman played by Jane Krakowski, who plays a similar if more complex role than her character of Jenna on 30 Rock, pompous and entitled.
On 30 Rock, Fey's fictional counterpart Liz Lemon was relatable, and the show overall was a joy to watch, but somewhere in the back of your mind you knew that she was still the head writer and creator of a successful television show, giving every paycheck joke a little less punch. Kimmy Schmidt feels realer than this. Despite its incredibly odd cast of characters and outlandish situations, from terrifying cults to just trying to make rent, the tension and stakes are more real. This allows you to be more invested, and makes the commentary the show brings up really follow through.
Even the show's theme song is hilarious. It is a video of a man reacting to the discovery of the bunker that went viral and was then turned into a song. There are only three examples of this type of video being used in movies and television: this Netflix original series, the Netflix original series House of Cards, and the 2013 Dreamworks animated movie Turbo – which was later turned into a Netflix original series. Despite this repetitiveness, the theme song fits the show's tone and works really well.
Kimmy Schmidt feels a bit like recycled 30 Rock jokes, but not in a bad way. It's quick, clever, and worth binge watching in your apocalypse bunker.