New pizza restaurant in Arlington Heights
By Jordan DuShane
Staff Writer



"Day Go" means brother in Italian, but it's spelled differently according to Richie Vaia. New Yorkers don't call pizza, pizza they call it "Za".
Richie Vaia, owner of "Day Go Dogs & Za" in downtown Arlington Heights thought to name his restaurant this because people call him Richie Daygo and his restaurant serves pizza, hot dogs, along with an assortment of Italian food.
For the last 25 years, Vaia's family has been in the restaurant business. The past 5 years Vaia has had his own restaurant, starting with "Day Go Dogs" in Algonquin.  According to Vais, the Algonquin location closed because of a bad partner. After it closed, he opened "Day Go Dogs & Za" with the sibling duo Ginny and Joe Ori March 19 of this year.
"Day Go Dogs & Za" is different than a normal fast food joint. First of all, the cooks wrap fries up with the hot dog before it's served. The idea came from Vaia's childhood. When he was growing up he went to "Gene & Jude's" in River Grove, where they did that.
"There is nothing like having a hot dog with a few extra fries stick in it," Vaia said. "It just gives it a unique flavor and taste and I will never change it."
The restaurant explores Vaia's Italian heritage.  He has put photos of famous Italians who have impacted the world in a variety of ways,  an example being Marilyn Monroe. The photos consist of entrepreneurs, athletes, musicians, scientists, emperors and actors.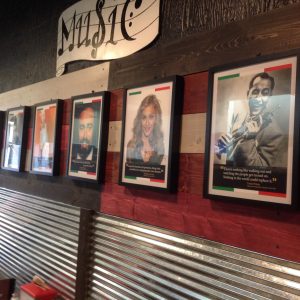 "It's kind of an Italian museum in here," Vaia said.
Vaia is not only the owner, but he has brought some of the homemade recipes the restaurant uses like the Italian beef. The Ori's also bring other recipes along with their 85 year old mother who makes all the meatballs. Being an Italian restaurant, they also serve pizza which is made from a 150 year old Ori family recipe.
Vaia thought when the restaurant opened he would be relieved after having to postpone the original opening day due to trouble getting permits from the village.
"I thought the sense of relief would drop my stress level down, but it's actually increased mainly because I am here from the minute it opens to the minute it closes…," Vaia said. "But when you want good quality, good everything you have to be on top of it all."
"Day Go Dogs & Za" opens at 11 am and closes at 9 pm Sunday through Thursday. On Friday and SaturdayAl they open at 11 am and close at midnight.
Not only is the food good, but for Vaia, cleanliness is a big factor to his restaurant.
According to Vaia whenever he goes to a restaurant, he goes to their bathroom because if the bathroom is clean, then you know the kitchen's clean.
Not only is the restaurant family friendly, but the workers are welcoming, according to Vaia.
"We have a very good team here, but basically one of the strong reasons are because I'm a pretty easy to get along with," Vaia said. "I make sure they have to do what they have to do."
Leaving a legacy is what Vaia expects to come in the future from the restaurant, wanting to keep it family owned and operated.
"I hope this stays to my children. I just want it to live on," Vaia said. "I want my recipes, the great taste, everything to just live on."
There's competition for legacy. According to a study done by Ohio State University 60% of restaurants fail in the first year, and 80% fail in their first five years.
Vaia isn't giving up anytime soon. He is planning to be at the Arlington Heights Art Fair June 6 and 7, Frontier Days, and the Arlington fest.
Even with the competition, "Day Go Dogs & Za" Vaia's mindset will keep his restaurant alive.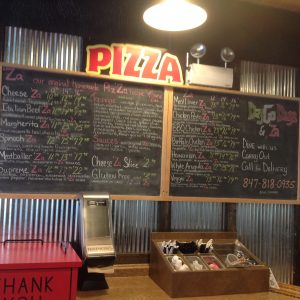 "It's all about what you put into it," Vaia said.