Goldie leaves legacy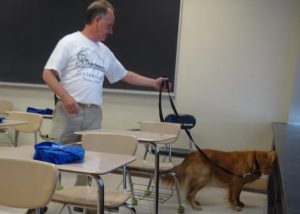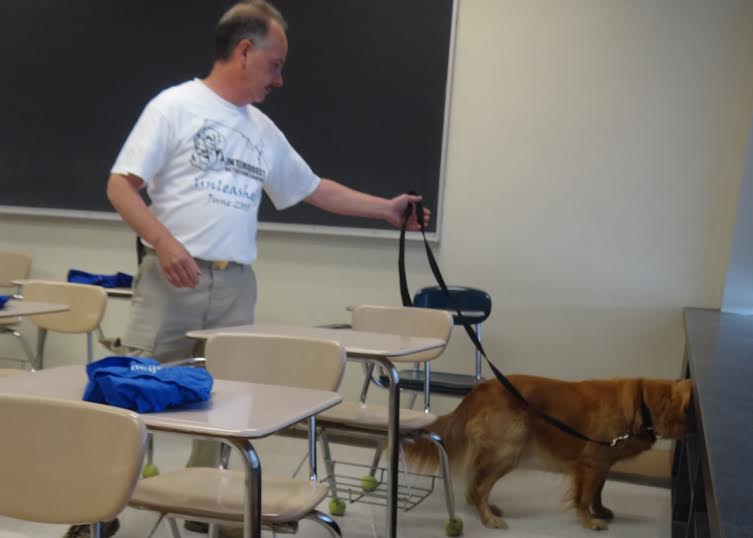 By Grace Berry (@gracevberry)
Glenn VadeBonCoeur walked into Prospect with a golden retriever and bag of Mrs. Field's chocolate chip cookies. Former dean Pat Tadaldi-Monti was confused when she got a radio message that a man with a dog was here to see her, but she let him into her office.
VadeBonCoeur brought his dog Dandy to talk about his program, which checks schools for drugs, alcohol and other illegal substances that could threaten school safety. His program was different because his dogs were friendly and could search for very small quantities of drugs.
That year, 2003, Prospect became the first person to implement this type of program.
VadeBonCoeur and Dandy worked at Prospect until Dandy retired in 2010. He started working with a new dog, Goldie, that year. Goldie passed away suddenly last week.
"I can't even imagine for Glenn losing Goldie because Goldie wasn't old and she wasn't sick," Tedaldi-Monti said.
VadeBonCoeur explained that any dog he works with is like a partner and that you rely on that dog to get the job done for you.
"When you work to together like that, you become very close and they become a part of you," VadeBonCoeur said. "It's a very special relationship unlike anything else."
Goldie was very good at her job and was a very hard worker. VadeBonCoeur jokingly called her "little miss know-it-all." She was very deliberate, and she had to get everything exactly right.
"She was a wonderful dog to work with," VadeBonCoeur said. "I loved her more than anything. She was very special to me."
VadeBonCoeur was flooded with emails after Goldie's death from people all around the Chicago area and from all different schools where Goldie worked. VadeBonCoeur explained Goldie left a legacy wherever she went because she was so sweet.


"I didn't realize how many folks loved her out there across the Chicago area," VadeBonCoeur said. "They thought the world of her."
Goldie was a stray dog. She was rescued from a gas station in Texas and a trainer and Interquest just happened to be there. Right away the trainer knew she could do the job.
Tedaldi-Monti explained Goldie always seemed so grateful and attached to VadeBonCoeur, and that was one of the things she admired most about Goldie.
"She followed in Dandy's footsteps but kind of carved her own little niche," Tedaldi-Monti said. "I think people would say she was all business."
VadeBonCoeur will continue to work at Prospect with a new dog next fall. The training will take time this summer because VadeBonCoeur will have to get used to his new partner and build a relationship with a new dog, but he will always remember his old dogs.
"Dandy blazed the trail and showed everyone what could be done, and when we retired Dandy, Goldie was the one that had to step up and get the job done," VadeBonCoeur said. "Everybody loved Dandy and believed in Dandy, and here comes this newcomer, and it was her job to fill Dandy's shoes, and she did an awesome job of it."