Commons, other construction projects usher in modern era
By Mike Stanford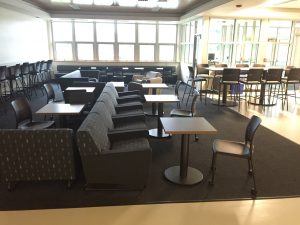 Senior Annika Pentikainen first saw the newly-renovated commons during Marching Band Summer Camp, and was immediately was struck by the area's modernized look.
The commons are one of several areas of the school that received a makeover. Other projects include a new parking lot and entrance in circle drive, additional storage in the fine arts hallway, refurbished bathrooms outside the cafeteria, new paint and floors in the first floor hallway leading to the commons, new seats and the addition of an orchestra pit in the theater and new lights and paint in the fieldhouse. The pool is an ongoing project that is scheduled to be complete July 2016.
Despite a multitude of projects, all construction proceeded according to schedule without any major alterations to plans, so the building will b
e fully operational on the first day of school.
While the school will ready for students, some question the appearance of the newly-renovated areas; although Pentikainen approves of the furniture of the commons, she is not fond of the stark white walls.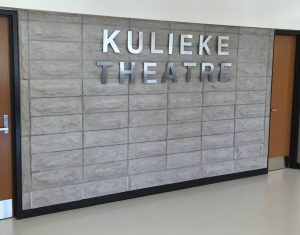 However, what students will see when the doors open is not the final product.
According to Associate Principal Greg Minter, the school will be employing a professional design company that will build a plan to fully modernize the look of the commons.
While the area is not yet fully decorated, Minter believes the commons can already make a positive impact on the student body.
"[The commons is] a much more comfortable place to do homework, collaborate [and] hang out," Minter said. "It's more bright … and feels newer and nicer than what we had before."