Marching band prepares for competition season, strives for excellence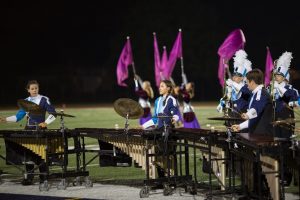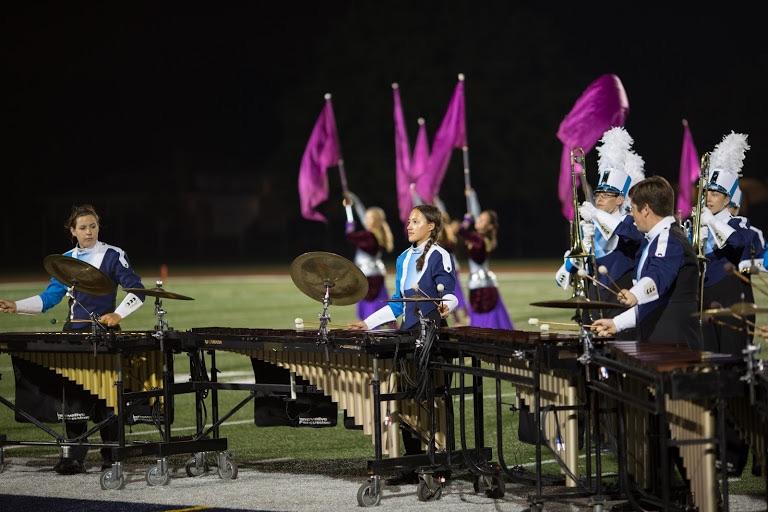 By Caley Griebenow
Every home football game, as the football team recedes to the locker room at halftime, the Prospect Marching Knights (PMK) take the field to put on a spectacle of music and visuals. The drumline proceeds to play right in front of the student section, resulting in a frenzy of excitement.
"It's a big reward to see everyone go crazy," junior drumline member Asher Ginnodo said.
However, most people do not know that the band does not exist to purely entertain football fans. Rather, they have competitions almost every weekend in which they go head to head with dozens of other bands.
This past weekend, the marching band competed at the Lake Park Lancer Joust, In prelims, the band was awarded best of the following: auxiliary (color guard), percussion, music, general effect and visual effect. In finals, the band was was awarded best visual effect and general effect, and were named Grand Champs.
Ever since senior drum major Olivia Sykes has been in the band, the PMK have been named grand champs at Lake Park. However, titles are never the band's main focus.
"Our goals are never to be successful trophy-wise at competitions," Sykes said. "It's just to continue to perpetuate this idea of excellence that has been held in the PMK for so long, and for each show being a better show than the last."
To prepare for their competition season, the band practiced four days a week from 1 to 9 p.m. in June. In August, they upped it to five days a week before dropping to two days a week for three hours after school. Upcoming competitions include one at the University of Illinois and Bands of America in Indianapolis.
According to band director Chris Barnum, all the summer practices will be worthwhile.
"The further we get into the season, the more we start to see all the hard work they've done really put into play in a performance," Barnum said. "We get to achieve something really great and unique."
Sykes will never forget her time leading the band.
"Being in front of the band and making music with them, it's an experience I'll never be able to replicate," Sykes said.