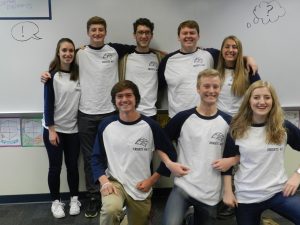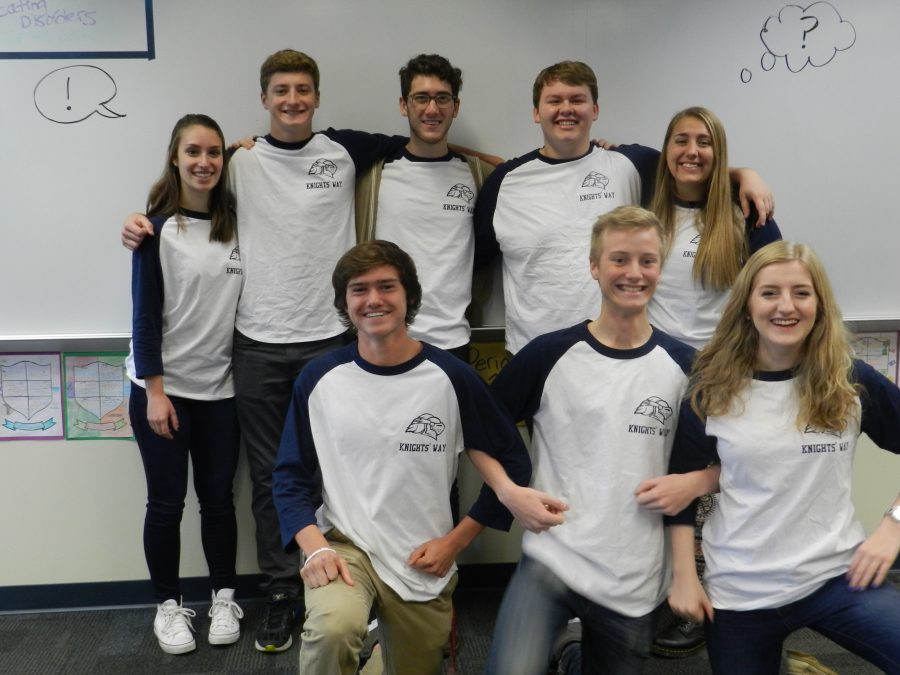 By Kit Fitzgerald
A second-period health class of thirty kids or so, still blinking sleep from their eyes, sat horrified as a caffeine-crazed Knights' Way leader bounced around the classroom, shooting off statistics and advice. The leader was trying her hardest to generate some excitement and response about physical health. She was in the middle of saying, "if you're sick, you have to stay home," when she was interrupted by her own coughing attack. Students snickered as they realized their Knights' Way leader hadn't even considered missing school.
Confession time: that Knight's Way Leader was me.
2015 Knights' Way started today, so there's no better time to share the moral journey I embarked on after my spectacle of hypocrisy. Knight's Way leaders don't always agree with the topic at hand, and trying to hide this doubt affects discussion negatively. To avoid hypocrisy, a leader should ideally believe every topic 100%. So what should students do in our non-idyllic world?
I couldn't be the only student having doubts, so I consulted senior Knights' Way leaders Amy Kruse and Annie Boarini. Last year, they had trouble discussing the topic of diversity, which stemmed from a great basic topic: accepting others differences. Further into the topic, they weren't as sure. Boarini admitted she felt odd discussing a topic she didn't fully understand. Kruse was sure their hesitance limited the conversation and ended in more games than topic matter.
In both cases, we agreed with the basic idea of the topic. Physical health is important. Accepting others is important, too. Yet, the details, the outlines and the videos moved away from our comfort zones.
I wanted an answer. What was I doing wrong? What should I change? I visited school psychologist and Knights' Way advisor Dr. Jay Kyp-Johnson. After explaining my situation, he seemed to immediately understand. His advice was simple: if I don't believe in a topic, I should let my partner take over. But if it it's just a concern or a misunderstanding of the topic, discuss it. I truly believe physical health is important, and I wanted to talk about it. The fact I was at school while sick was something I could have discussed. However, let's say a leader feels truly uncomfortable discussing a touchy subject. That leader should ask their partner to take the bulk of the questions.
Not going to lie, I felt silly. They're called Knights' Way discussions, so the obvious conclusion would have been to discuss my doubts. I had gotten carried away in outlines and name games, and I saw myself as a teacher of sorts. But Kyp-Johnson assured me that not many people realized the intent of having peers lead discussions is to even the playing field and make everyone more comfortable sharing thoughts.
He even dismissed my coughing attack, sharing the story of a leader who handled his topic even more poorly. This student, now graduated, researched and printed material that proved the original topic wrong. That Thursday, he presented new, anti-Knights'-Way-information to his class. So at least I wasn't that guy.
My problem was that I didn't realize how important the "discussion" part of the discussions were. If I had just said, "Guys, I'm sick because I hate missing school," that might have sparked some connection with other students. We could have had an honest conversation about what to do in a situation like mine, but I was too carried away in preaching the material.
It's important for students to realize this, too. It's hard to speak out against information that's being taught. Knights' Way can sometimes feel like a class where you should take notes and stay silent. But this leads to a dead, uninterested room that doesn't learn anything. If your leader says something you have a question on, ask that question. If they say something you disagree with, raise your hand and disagree with them. Be active and add to the discussion. If you don't, what will you get out of it?
After my talk with Kyp-Johnson, I felt much better about my position as a Knights' Way leader. Apparently, Boarini and Kruse felt the same way because they actually created one of the topics this year: good decision making. They wanted to make topics more general, and they plan on encouraging the leaders discussing this issue to be as open as possible.
The similarities between Boarini and Kruse's plan and Dr Jay's advice gives me hope for this year's Knights' Way. My hesitance towards some of the topics is still around, but that's only because I have a brain and I have opinions. I saw my doubts as bad, detrimental to the Knights' Way message. Now I see them as contributions. Before you start your discussions this year, remember to be open and honest about every thought, every opinion and every coughing attack.