Survey brings life to calendar discussion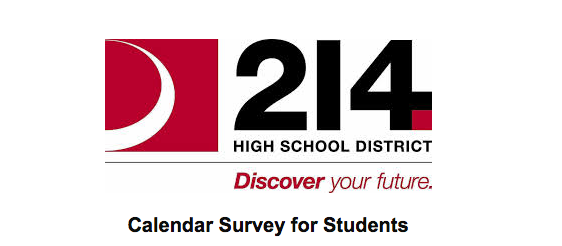 By Jack Ryan
I sat down with Superintendent Schuler on Tuesday to try and answer the questions circulating the surveys that has been sent out by him these past two weeks, and the possible calendar change that can happen in the 17-18 school year.
Want to give your input on this matter? Link to the survey here.


Q: Has D214 set in stone the calendar change for the 17-18 school year?
A: The school board hasn't decided to change the calendar, but what we've done is we are in the process of reviewing [five options].
Q: Why did the District 214 administration decide to send out a survey to the teachers, student and parents?
A: A number of other school districts have made the decision [to change their calendar]. What we've said is because a lot of other schools have made the decision, because the American Medical Association has come out with research regarding later start times, [we felt] rather than us making a decision, we wanted to engage in the community conversation. So that's why we have sent out parent surveys, student surveys and staff surveys, because it would be inappropriate from my perspective to make a recommendation without knowing were do you guys really feel.
Q: What do you think the biggest challenge is from sending out these surveys?
A: I think our biggest challenge will be if the parents, students and staff all say something different, but I do not think that will be the case.
Q: When is the last day students, parents and staff will be able to take the survey?
A: The survey closes on Friday, and I'm excited to get the data back. The number crunchers who are off site at K12Insight will crunch the numbers over the weekend. Hopefully we will get something back, I'm hoping in the next week or so for our first listening session Nov, 10.
Q: What will the listening sessions be like that will be held by the district including yourself?
A: There are four listening sessions [on Nov, 10]. There will be two during the day and two at night. So people who either work at night or have to take care of their children can come to one of the day sessions. For student, staff or parents that work during the day can come to one of the night sessions. This is so everybody has the opportunity to be part of [the discussion]. One of the things that we've done since I've been in the district, and that the school board has been very supportive of, is making sure that everybody has the opportunity it weigh in. We will be completely transparent [on the topic as well]. I or Mrs. Orne, who is an English teacher at Wheeling, will be co-sharing with me committee. Either I or we will be giving a short presentation just on the options, the why's, the different variables and then we just open it up and listen. It's not a back or forth kind of thing, we don't argue.
Q: What is your goal for these surveys that are sent out to the student, parents and staff?
A: I'm really interested in trying to find out what is the community thinking about with school start dates and end dates. The student advisory groups, where we have two reps from each of the schools … are saying that, 'We are so stressed out, and there is no time to recover, to get projects done." They really like, at least one of the Prospect students was talking about, that option five where we would have a fall week off, and time off with four day weeks. Can you imagine junior year having a week to go visit colleges, or a week senior year to complete college applications. So I'm really interested in hearing what the students feel. I hear that the students feel very overwhelmed sometimes with the AP classes that they're taking and the activities they're in, so maybe a couple four day weeks, or having one four day weekend every month with a couple weeks off in different periods would help students.
Q: Do you think starting earlier in the year, and having finals before winter break would be a good viable option for the 2017-18 calendar?
A: Ending finals before Christmas, and starting at the same time, and trying to end before Memorial Day, if you looked at that option there's very very fews day off. Over worked in a school where you get few days off, from when you come back in January until Spring Break. It is dark and cold in January, February and March. Do you really not want to see outside? At the same time [though], District 211 is going to that, and District 219 they just went to it, but when you talk to some students and teacher there, and they're pretty concerned how burnt out and stressful they will be. Well I don't want to do that, if this is the time to engage in this conversation. It's one thing to say when do you want finals, but it's a whole other thing to say what is the best interests for the emotional and academic well being of our children. That's what I'm hoping to get at with [with these surveys]. What do you really think, rather than saying, 'I want finals before Christmas.' No, what's gonna help you be better students. What's going to take pressure off of you, and allow you to perform better academically.
Q: How much consideration will be taken in from the students?
A: [All the results] will be weighed equally. Without knowing all the results, it's hard to say that for sure, but students voices are so critical. Students are living it.