By Ben Dojutrek (@bdojutrek)  
Everyone wore brown as they sped past the finish line. They wore colors underneath, but the rain turned the ground to mud, and it colored the runners as they raced past. Yet both girls' and boys' Cross Country teams found success during the sectional meet Sat., Oct. 31 at Busse Woods.  
Girls' cross country raced first in a tight race, with four out of seven girls placing in the top 50.  Junior Brooke Wilson took first overall with a time of 17:45.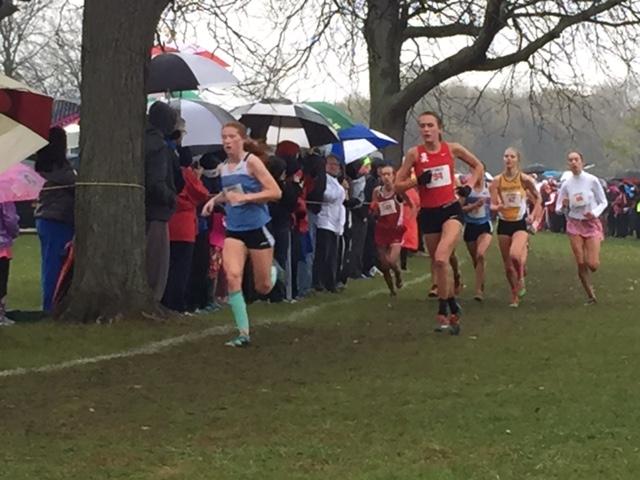 "I held a consistent pace throughout," Wilson said. "I felt relaxed, and around eight hundred I knew I had it."
While Wilson qualified for state, the girls' team did not. They placed sixth overall with a score of 143, 28 points too high. It was a disappointing finish for a team coming off a win in conference.  
"Watching that race, I knew it wasn't our best performance," coach Pete Wintermute said. "It was just one of those days. You have to run well to qualify for state."
Wintermute believes that with hard work in the off season the team can improve on this season and get better results.
After the girls finished, Boys' Cross Country took the field. This was a team that last year almost made it to state, but lost in a tight conference meet.
"This was a team with a chip on its shoulder," said coach Mike Stokes. "We worked hard, we did what we had to to do and got it done."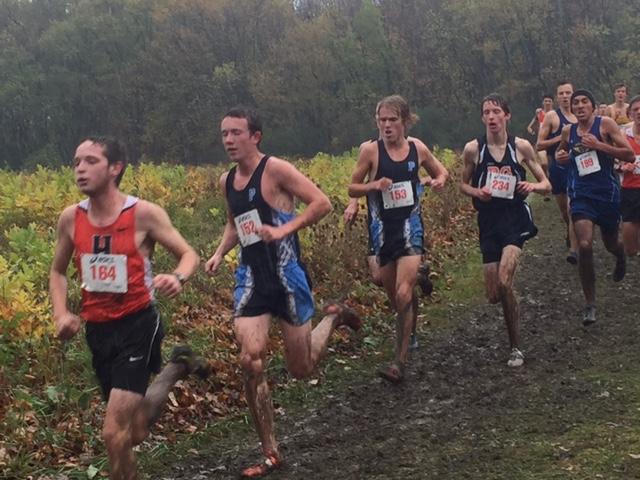 The Knights did get it done with all seven of their runners placing in the top 50. The boys were able to take second overall in the sectional. No runner had a pace over 17:00. Leading the Knights was senior Karson LeComte, who took ninth overall with a pace of 16:04.  LeComte had confidence that the team would do well in the meet.
"We all knew we could win this if we ran our race," LeComte said. "I mean, last year just gave us the motivation do better this year."
The Knights were also able to defeat divisional rival Buffalo Grove after tough match-ups against them. LeComte is proud of beating their constant rival.
"We lost to them at [conference], which is a bummer," LeComte said. "We knew that if our pack would work together, we would be able to pass them up."
Up next for the Knights is the state meet, where the Knighthood of Runners will face a tough crowd of runners at the meet, but if they keep up this pace they can achieve success.