Administration, community welcome natatorium
By Mike Stanford, editor-in-chief
Hundreds of people gathered Monday night to dedicate the Prospect High School Natatorium. The event culminated two years of work since the project was first announced. (See our September 2014 story, "Prospect takes the plunge" for more on the pool's origins.)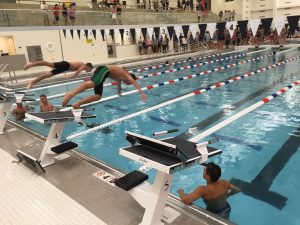 Attendees included members of the boys' and girls' swimming and diving team's from both Prospect and Hersey, board members, administrators and community members. They were greeted by the cheerleaders and the marching band. According to Assistant Principal Frank Mirandola, people's initial reactions to the pool are all pretty similar.
"Everyone that walks in is kind of in awe," Mirandola said. "People are always impressed with how light it is and just how great it looks overall."
The ceremony began with a welcome from Mirandola, who was emceeing the event, and many rounds of acknowledgments, including those from School Board President Alva Kreutzer and Superintendent Dr. David Schuler. This was followed by speakers who touted the qualities of the new pool, a ribbon cutting ceremony and commemorative dives from freshman Jill Schmit, senior Meghan Schmit, sophomore Aidan Busiel and sophomore Aaron Busiel.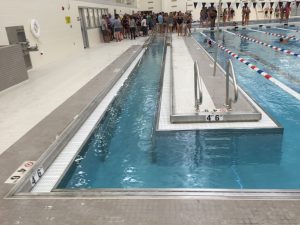 After the ceremony concluded, swimmers and divers quickly dived into the pool, a moment junior swimmer Cam Rodriguez says was indescribable because he knows it will be the first of many, and he hopes having a home pool will reinvigorate the team.
The pool he and the other swimmers jumped in is 40 meters long and contains just under 500,000 gallons of water. It is large enough to accommodate both swimming and diving at the same time, unlike Prospect swimming's former home at Wheeling.
According to Mirandola, the pool's design is similar to that of the one at Buffalo Grove. A notable difference is the pool's handicap-accessible ramp entrance. Another key aspect is the natatorium's exterior.
Mirandola says the plans gave careful consideration to making the addition blend with the school's architects. To do so, the foyer's windows match the KLC's, which creates a "bookend" effect.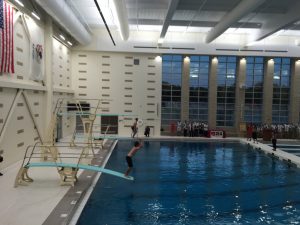 Now that the pool is incorporated into the building, Mirandola is looking forward to seeing it in the curriculum. (Read our April 2016 story, "Administration plans 2016-17 pool usage for PE classes" for more on how the pool will be used in gym class.)
Mirandola believes that while the pool will be used by the swimmers and divers as it was Monday night, the pool curriculum will allow all students to feel the benefits."People are going to be made comfortable in the water," Mirandola said. "[The pool] is a big difference for a lot of people but it's a positive difference that's only going to be beneficial for the well-being of our students."