Pete's Dragon effects soar to success, plot plummets
By Amanda Stickels, executive online editor
You must be lying if you say you don't want a dragon after seeing the movie Pete's Dragon. I don't care how old you are; you will want a dragon after watching the remake of the 1977 film.
Who wouldn't want a best friend that is always by your side, protects you from all the dangers in the woods and flies?
The ever-adorable dragon, Elliott, forms a bond with Pete, a little boy orphaned and lost in the woods after a tragic car accident.
The two live in the forest together until park ranger Grace Meacham and her family find Pete. With them, Pete experiences the love of family but also must protect Elliott from curious lumberjacks.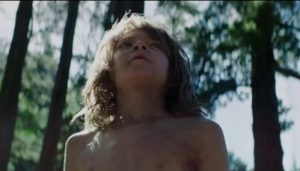 I found the plot to be lackluster at best. The awfully stereotypical Disney movie proves to be very predictable and unexciting.
Like Finding Nemo, Frozen and Brother Bear, the movie starts off with a family tragedy that serves as the basis of the story.
Also, the theme of protecting the environment can also be found in the Lorax, Happy Feet and Tarzan.
I don't expect Disney to come out with a groundbreaking movie that changes all movies for the rest of time, but the feeling that I was watching "just another Disney movie" left me bored.
However, what kept me from falling asleep was the awesome animation of Elliott. I swear he looked so real that I felt like I could reach out and touch him.
His eyes were remarkably lifelike right down to the pupil, and each strand of his fur was visible as he flew through the sky.
Even Elliott's facial expressions were realistic. Despite not being able to speak, Elliott's facial expressions would convey his emotions perfectly.
In one scene where Elliott sees Pete with his new family, the sad look on Elliott's face as he believes that Pete doesn't care about him anymore is heartbreaking.  
Elliott's acting wasn't the only good performance. Pete, played by Oakes Fegley, did a great job of showing off his talent.
The love and trust for his dragon was evident as he would call for Elliott when he was in trouble or while he protected Elliott from people trying to hurt the dragon.
When tranquilizer darts are aimed at Elliott, Pete screams for his best friend. The desperation in his scream showed that Pete truly cares so much for his dragon.
The bond between them is the heart of the movie and despite its predictability, Pete's Dragon will warm your soul. Although Pete's Dragon is fictional, it displays the importance of friends and family.
While Pete's Dragon may not have soared in the box office, the special effects definitely make it a magical experience.