My trip to California, as told by my camera roll
By Caley Griebenow, associate editor-in-chief
Los Angeles, day one
After touching down at LAX and getting into our glamorous rental car, a Buick we later named Bert, my family and I were starving for some fast food. We pull up to the In-N-out, and I can only describe it as California's version of Portillo's.
The line inside and the drive-thru were both ridiculously long, and everyone was anxiously awaiting their order of burgers and fries. Unfortunately, we made a rookie mistake and didn't order the 'animal style' fries, which are fries with cheese, a secret spread and fried onions.
But overall, In-N-Out is a must if you're ever in California.


LA, day two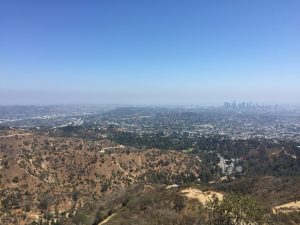 Day two in the city of angels consisted of driving up to the Griffith Observatory, which overlooks downtown LA. A 30 minute hike brought me, my mom and sister up to the view shown in the pictures.
The famous Hollywood sign seemed so close at the top of our hike. But the day went south when my sister lead us down the wrong path back to the observatory, and I was burnt to a crisp, as I wore a tank top in the middle of the day with no sunscreen.
Oops. But talk about a view.


LA, day th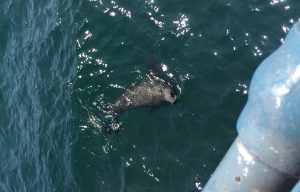 ree
Day three, aka beach day. After battling the mind-numbing traffic that LA is famous for, my family and I make it to Santa Monica Pier.
We walked the pier, noting its quirky vendors (you could get your name engraved on a grain of rice) and year-round carnival rides. At the end of the pier, someone spotted a sea lion, which I promptly named Sampson.
In the evening we drove to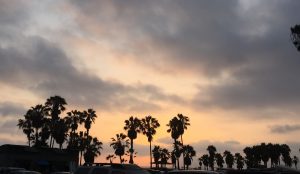 Venice Beach, and I have never seen so many strange people. A guy was skateboarding while balancing a branch on his head. Another was meditating with a cat in his blazer.
A woman had dreadlocks down to her feet. Seriously.


Santa Barbara, day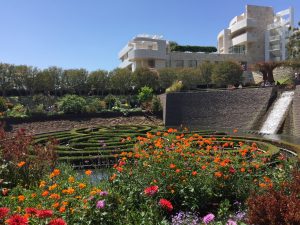 four
The Getty Museum was on our agenda for the first day in Santa Barbara. It's an art Museum that rivals The Chicago Institute and Le Louvre.
The gardens were stunning, and we saw replicas of ancient cave paintings done by buddhists, and an exhibit about London's finest artists. The day ended with getting a cookie skillet at our hotel restaurant that we devoured so quickly I couldn't take a picture.


Sant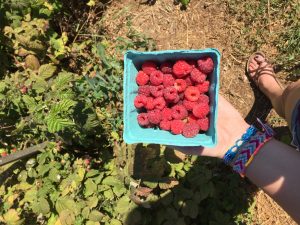 a Barbara, day five
Day five was all about wine county. A visit to a lavender farm, picking raspberries at a ranch and wine tasting (I was NOT tasting wine of course) were all included in our itinerary.
It was enough to make me want to move to California and open up my own vineyard and ride horses in between the rows of grapes. Just like in the movie The Parent Trap.


S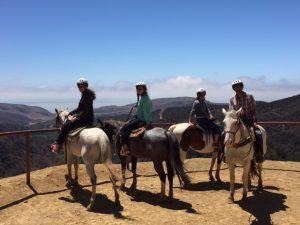 anta Barbara, last day
I was looking forward to this day the trip: horseback-riding through the mountains. My horse was named Smoke, and together we conquered the trail.
Our guide was Rick, but we called him Cowboy Rick. Cowboy Rick pointed out mountain lion scat and bear tracks, and he took our picture at the summit.
The view was breathtaking, but Smoke got antsy and we had to head back to the ranch. That evening, I basically just lounged by the pool and remained in denial that our trip ended the next day.