Students, staff interviewed by Daily Herald
By Flynn Geraghty, associate editor-in-chief
Senior Brooke Wilson was in her AP Chemistry class when she was asked to step out into the hall and asked if she would like to be involved in a very unique experience: an interview for the Daily Herald about the influence 9/11 has had on her as a student.
Though Wilson had been interviewed for newspapers before for her various achievements in cross country, this was going to be an article that had more impact.
"[I knew it was going to be] a little bit different," Wilson said. "[I knew] a lot more people [were] probably reading that story than the cross country [one]."
On Sept. 7, eight Prospect seniors and teachers were interviewed for a Daily Herald article entitled, "9/11 now is a history lesson, not a memory, for today's high school students."
Senior Michael Mosley was among the students interviewed, only unlike Wilson, this was the first time he had ever been interviewed for a publication like the Daily Herald.


"I was excited," Mosley said. "I was really hoping that I would have something interesting to add to the commentary."
During the beginning of fifth period, the group gathered around a table in the Social Sciences Resource Room as they began to discuss. The students went first, since they had to go back to class soon. The loud clicks of a camera shutter filled the room as the four students answered questions about how much this event has impacted them, despite it taking place when they were all very young.
"The atmosphere wasn't very awkward or heavy," Wilson said. "The four of [us] were all contributing good ideas and thoughts. It was just a fairly collaborative [environment]."
Once the students had finished, they were allowed to go to their fifth period class as the faculty members began their discussion. Unlike the students, the teachers were old enough to remember exactly what the day was like.
"We were just talking, reminiscing about that day," Judson said. "We didn't really have to prepare anything. We were just talking about what we experienced."
After the interviewing process was over, the students and teachers thought nothing of it. They believed the story would be buried somewhere in the middle of the paper where someone would have to go looking for it to read it.
"I was joking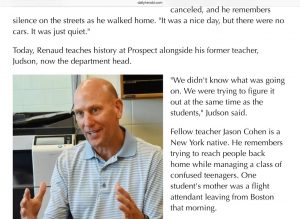 with our district administrators and saying 'Oh, the article's going to be on the front page!'" Judson said. "I was just kind of laughing; I thought it was going to be buried in the neighbors' section."
However, much to Judson's surprise on Sunday morning, he found the story was indeed running on the front page.
"It was a neat article," Judson said. "You had the teacher and the student [perspectives]. It's nice to get those perspectives and [tell] that story. Any time [the paper] is able to express and show what is going on a Prospect, it's a good thing."
Like both Judson and Wilson, Mosley feels that the experience was a unique one that he was lucky enough to experience. He believes that it is vital for students to formulate their opinions on events and how they affect them.
"In this stage in our lives, we are going to be voters, we are going to be adults, so it's important that we are informed about issues and world events," Mosley said. "It shows that we are valuable thinkers and can offer a unique perspective on these issues."
To read the article, click here.