One Knight allows administrators to find out what it's like being a knight for a day
By Ayse Eldes, opinion editor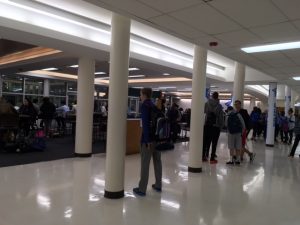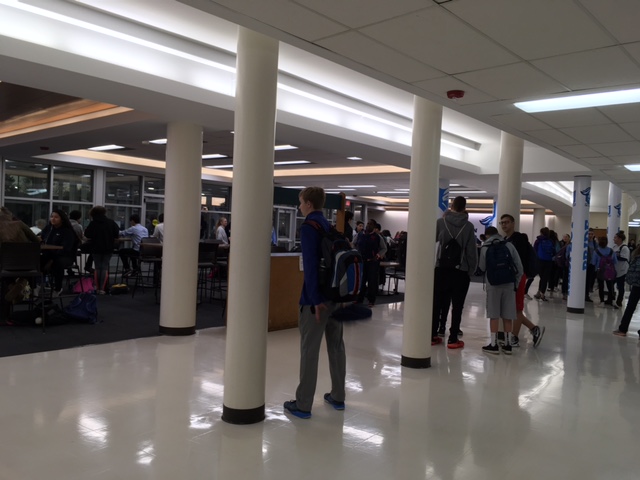 English Fine Arts Department Head Adam Levinson, was beyond impressed when he stepped into junior David Swedura's Spanish 4 class. Dressed in shorts and a t-shirt, a different apparel choice than his regular formal attire, he sat in a desk with everyone else. Levinson, who only took up to the Spanish 3 level in high school, got a taste of what he missed as a student years ago.
Prospect hallways welcomed an unprecedented event this year. Nine students each were individually shadowed by an administrator for a whole school day. Those like Associate Principal Scott McDermott, who graduated from Prospect in 1989, were thrown back into the classroom world.
On Wednesday Nov. 30, students from each grade and academic level were paired up with one administrator. The purpose behind the day was to get a real feel for what it was like to be a student at the school and identify what can make the school day better.
The One Knight day became a reality after Assistant Principal for Student Activities Frank Mirandola introduced the idea after an institute day session. The session, led by Prospect special education teacher  Becky Boorman, focused on the "holistic" student and how staff can help lower stress levels of students.
According to McDermott, about 45 staff members attended the session to find where they can reduce stress levels of the student body. Boorman knew that in order to have a successful conversation, they'd have to have actual hard data about the topic, so a survey was sent out prior to the institute day.
In the survey, students were asked multiple choice questions on what makes up the stresses they have. Boorman was shocked and realized the legitimacy of the problem when close to 600 students chose to answer the optional free response question at the end of the survey. Those who attended talked about changes that could be made to confront problems such as assessments piling up on one day.
From this conversation stemmed the idea for One Knight. Years ago, McDermott had a similar idea after a meeting with the leadership team about what it meant to be a student at Prospect. However, he couldn't get it kicked off at the time.  
"The most dangerous phrase we can utter is 'we've always done it that way'," McDermott said. "…If you want to make a change or if you really want to understand it, you have to live through it."
Now, McDermott's vision has become a reality after administrators experienced a student's day at school first-hand. As a participant of One Knight, he shadowed sophomore Avery Johnson. Johnson had assessments in two of his classes that day, so McDermott let the teachers know the he was "happy to attempt and fail any assessments that are given."
"That'll be interesting for me to walk through because the last time I did assessments  through college and post graduate stuff, I never had more than one given thing on any given day," McDermott said.
Johnson was excited when he was told that he would be shadowed. According to Johnson, McDermott told him, "we talked the talk, now we want to walk the walk."
Fortunately, that "walk" was very literal for Johnson, who looked forward to McDermott attempt what he calls the "hero's journey to chemistry class:" a walk he describes as "about ten miles" from the choir room all the way to the third floor. Johnson was surprised when McDermott showcased greater physical capability than him on their journey up the stairs.
What Johnson liked most was the free lunch McDermott provided him. According to Johnson, McDermott told him, "when you know the right people, you get free lunch."
"Now I expect him to buy me lunch every day. If he doesn't, I'll be disappointed," Johnson said. "I should write him a letter. 'Dear McD, I'm here. I'm requesting a lifetime supply of lunch'."
Another administrator participating in One Knight was Principal Michelle Dowling. She had a higher academic experience with senior Dana Iverson, a student taking six AP classes and doesn't have a lunch period in her schedule. Iverson also begins her day with a Calc 3 class at Hersey before continuing her schedule at Prospect, and she is also involved with Prospect orchesis and dance.
Dowling explained that she was already aware of how high performing Prospect students are, but it was nice to see what shapes students first hand, especially feeling the rigor of coursework.
"It was really great for me to see [Iverson] do all that stuff and see our teachers doing these things, giving our students these really great experiences because it really felt like I was sitting in a college class," Dowling said. "I found it really interesting too just how much I remembered and how much came back after years of sitting in a biology class."
Dowling fully embraced the student role, asking questions, taking notes, and participating in group activities throughout the day. One of her observations included the depth of conversation with the accompaniment of technology. Dowling, who grew up in an era where typewriters were used to write papers in the classroom, saw that iPads allowed group discussions to exponentially grow when kids could look up anything they needed to. Following Iverson's rigorous schedule, Dowling was impressed by the amount of information students received in one day along with the rigor of afterschool activities.
"She got all this information in a day, she was competing all night, and she had to go back the next day. It's like, when does she have the time to process all this stuff?," Dowling said.  "I was thinking, 'wow, this is really what life of a kid is like. This is your life, this is what you do, this is your work'."
Dowling was unable to attend Iverson's dance competition that night due to a prior commitment. However, other administrators did attend activities of their student. Levinson was invited to Swedura's basketball practice after school.
"It was awesome. It was in a foreign language; these guys talking about all these different things that are going on," Levinson said. " I really enjoyed that a lot and it was nice that they invited me to join them."
Like Swedura and Iverson, senior Alex Valladares was also shadowed. Accompanied by Mirandola the whole day, he appreciated administrators acknowledging afterschool commitments in addition to the traditional school day.
"School's part of a student's life, but the extracurriculars make up the rest of a student's life," Valladares said.
After living the life of students for a day, the nine administrators will now begin to discuss the next step. They will come together to discuss their observations and experiences, and answer questions they wanted to address at the end of the day. One of these questions include asking what the most eye-opening thing for them was. Dowling explained that her response will be about the vast amount of knowledge exposure each student has every day.
In addition, potential changes that can improve the school day will be brought up. According to Dowling, many staff members were also interested in doing something similar. Counselors may also do a yearly activity similar to One Knight. The goal of all of these activities will be to have more feel and insight to what it's like to be a Prospect student.
Classrooms have already begun making changes for students, especially involving lowering stress levels. After many teachers brainstormed what they could do for their students, it was decided that same-day assessments, multiple tests in different classes on the same day,  should try and be avoided. According to Boorman, parts of the staff have begun generating grade level calendars and generally communicating testing days amongst each other.
Aside from the institute day and One Knight's goals, Dowling explained that she gained more than just insight to student's lives. The experience was like a time portal for her to different times of her life. She was flooded with her own high school orchesis memories when she was at orchesis with Iverson. She felt like she was in college again when met with the rigor of AP classes.
And most notably, Dowling was thrown back into her teaching days. She remembered that even though she's a principal, she's "really a teacher at heart." Dowling has had a long education experience, with 18 years teaching at Buffalo Grove and five years at Hersey as a division head.
"I really miss being in the classroom and having that one on one interaction with the class. I mean, I get to see students all day long in a variety of different settings, but, boy that classroom piece is neat. And I really realized how much I really missed that," Dowling said.
The day allowed an opportunity for Dowling to remember what she loved so much about education.
"If you go into education, you go into it because you love kids and you just love learning. It was fun to be able to be that kid again, be able to go in and actually experience what we love and why we do what we do," Dowling said.