Prospect's Got Talent premiering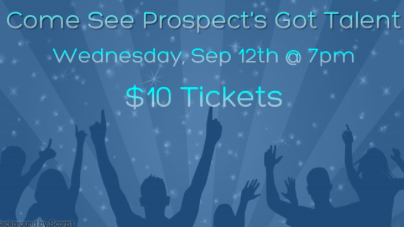 By Angelina Jasinski, Entertainment Editor
On Wednesday, September 12th, Prospect will be hosting its 5th annual Prospect's Got Talent. As in years past, there will be a variety of acts performed, such as, dancing, singing, and anything in-between.
Following the trend of years past, students performing can win cash prizes. Audience members can get in on the action as well, with prizes such as parking passes, tickets to upcoming shows, gift certificates, and more.
This year, there are over 20 acts scheduled. One of which will be a dance performance by senior Jacqueline Galliano and senior Sanworlee Nyain.
This will be both of their first times performing in Prospect's Got Talent. They had both talked about participating in the show in years past, however, they decided that they finally wanted to participate for their senior year. Although Galliano admits to being a little nervous to perform, she is mainly excited to be performing.
"I'm excited to perform with my best friend, and make the audience laugh, smile, and have a good time," said Galliano.
Jeremy Morton, who is assisting with Prospect's Got Talent, mentions how it's an exciting time because the show is not a scripted performance. The audience may be surprised to see fellow students with some type of hidden talent perform. This offers a fresh experience for performers as well. Prospect's Got Talent may be the first time a student holds a microphone or presents on stage.
Morton also mentions that in order for the winners to be chosen there will be three staff members. Along with the staff members, audience members will also be able to vote for who they would like to win.
As for students who might be hesitant to perform, or are first time performers for Prospect's Got Talent, Morton wants them to know that they should just try because they may find that it's something that they love.
"I always encourage people to tryout because the worst thing that's gonna happen is they're going to learn from that experience," Morton said.