League of women voters urges students to vote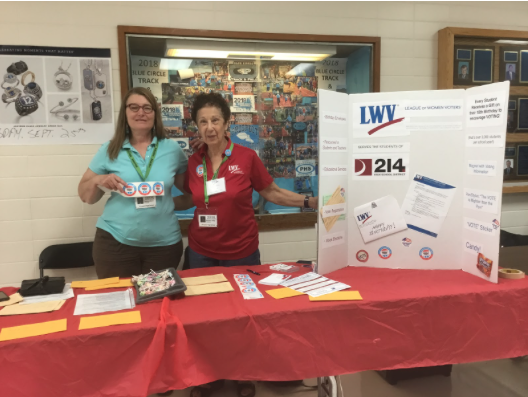 By Angelina Jasinski, Entertainment Editor
This season is a lot less about pumpkin spice and a lot more about politics. It's election season. This November 6th marks the upcoming midterm election.
On Tuesday, September 25th, the League of Women Voters visited Prospect and all other District 214 schools during each lunch period. Their goal was to register students 18 years of age to vote.
Registration tables were set up and students could receive help from women like Barb Sabaj and Terri Gens, who were there to promote voter registration. While the registration process required two forms of identification, for students who may have missed the opportunity to register at school, there are thankfully other resources. Students, and other interested voters can also register online at ova.elections.il.gov.
This is not only a simple way for students to register, but Sabaj also emphasized how important it is for not only students, but for everyone to go out and vote.
"Your vote is your voice, if you can vote and you don't, you can't complain" said Sabaj.
Sabaj also mentions the personal importance voting has to her. She believes in the power of casting a vote. Regardless of the candidates someone selects, she believes we hold power in being able to have our say through voting.
This sense of power in voting connects right to The League of Women Voters. The ability to cast a vote has not yet been enjoyed by women for 100 years. In fact, it took 150 years to gain women's suffrage. At our point in history, the mission to gain the right is longer than actually having the right.
Both Sabaj and Gens are a part of League of Women Voters, and hold voting to a high spot of importance. Gens mentioned that her reason for joining League of Women Voters is because they are nonpartisan and they take time to research important and relevant topics. Not only this, they are actively committed to getting all citizens registered to vote.
"Every vote counts, elections can be won or lost on a matter of a few votes" said Gens.