Prospect Marching Knights showcase playing abilities after performance in Atlanta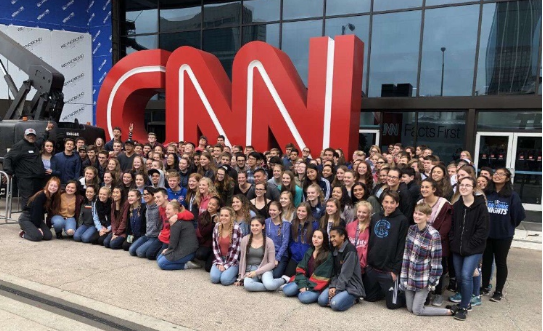 By Rachel Zurbuch, Staff Writer
Prospect Marching Knights (PMK) performed in Atlanta, Georgia's Bands of America competition and scored 5th in finals, their highest score in 11 years.
The PMK have been working since last spring to get their program together for their competitions this year. Their show was composed of four songs that was about eight minutes long. This year they competed at five competitions and hosted one. They scored 1st at Lake Park, 3rd Naperville north, 1st at Greendale, 5th in Illinois State, and 3rd in class 3A for the Bands of America's preliminary competition, before the finals at Bands of America on October 28. It was safe to say the band had a good season paper.
"I wouldn't doubt it was our best show," senior trumpet player Mike Tuleo said about their performance in Atlanta. "We really lived up to the expectations the designers of the show put out for us."
But what makes the season so memorable for PMK members is not the final number given, but the experience they had growing as a band and people these past few months.
Marching band students spend a lot of time practicing during the season. Members spend over half the summer going to band camp from 1 to 9PM, and then in the school year they spend Mondays and Thursdays rehearsing for three to four hours after school. They also perform at the football team's home games. This is all along with their Saturday competitions that run through end of October.
While the time commitment seems big to the students, many PMK members feel it's worth it because because of what they get to do.
"Music definitely connects people in a way that shows who we really are." said drum major Marion Bensing.
Bensing says that they've really grown as a group this season. She explains that even when there's been times when they've gone up or down, they've learned from it and it helped them with their potential as a band. While there's always times were they could have done better, she believes the work they did was "acknowledged and rewarding."
"You spend your time working hard, but you also get to do it while working with your friends," Bensing said. "and everyone in band knows each other so it's like a nice community."
Tuelo says that band has helped him develop friendships through his four years participating.
"My best friend, Evan [DeRicco], has been in band with me since 5th grade and I think if it wasn't for band I wouldn't be friends with him anymore," Tuelo said. "I really owe band for making a lot of my friendships."
He says his trumpet section personally makes effort a lot to be good friends; they all go out to breakfast together before competitions, and they've visited him at his job in Medieval Times.
The students got to spend a lot of time together at their biggest competition of the year, Bands of America in Atlanta. They left after school on Wednesday October 25 and immediately started driving. Since the trip down is so long, there more opportunities to bond and come together, according to Tuelo.
That doesn't stop the trip from unexpected events happening such as when one of the buses ran over a deer.
While in Atlanta, they band got to see many new things. They visited the Martin Luther King site and museum, Betty Rose gardens, and eternal flame. Along with those, they go to go to CNN, the Georgia aquarium, the Coca Cola factory, and medieval times.
Since they were in a new place, Bensing says that that was really exciting for everyone.
"It's always exciting to perform in a stadium we've never performed at before," said Bensing.
While on the field Bensing said her mind is going crazy trying to remember everything to do. Sofia Quintana, one of the color guard members, feels in a similarly way.
"Don't mess up!" Quintana said about what was going through her mind during the performance. "Catch it!"
Bensing, Tuleo, Quintana, and their band director Chris Barnum all agree that they have a lot of expectations to do well, but they always try their best and take a look at what they did wrong from each competition to learn from it.
Bensing believes they ended their season on a high note and all of their work paid off.
"We are into it," said Bensing. "We are definitely optimistic and definitely aspired to achieve something greater, and we don't let our negativity to pull us down."
Bensing said she's sad the season is over, but knows when springtime comes they will be soon starting it back up. She always feels like they're a team, the PMK, as one.
"We had the eighth graders over because each year we have a middle school night," Bensing said. "and we were teaching them how to play pep band tunes, that are usually played at the football games. One section started to play it. This wasn't even intentional; then another section joined in, and then another section joined, and then soon enough the whole band is playing the pep band tune over and over again in a huge circle just jamming out to it, and I feel like that's what band's about: music connecting people."
The following video is a snippet of the band's performance at halftimes of football games. To watch the full broadcast, click here.