Prospect's Thorri Borozdin continues Olympic boxing campaign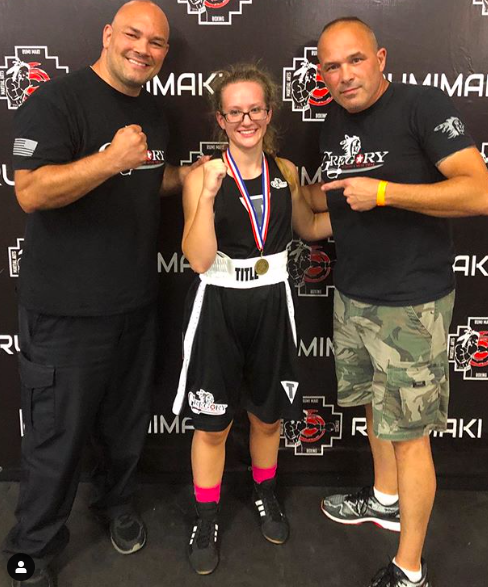 Sophomore boxer Thorri Borozdin was only 15 years old when she found herself up against her 17-year-old opponent in the Illinois Junior Olympic Boxing championship.
With no Olympic boxing experience and no other girls in her age group, Borozdin found herself up against a more seasoned opponent on one of the biggest stages in amateur boxing.
Borozdin, using her cunning boxing intelligence and powerful jabs, released an onslaught of maneuvers that sent her opponent to the ground early in the second round; subsequently deeming Borozdin as the Junior Olympic Champion.
"I destroyed this girl, not to sound mean, but I destroyed her I mean the doctor had to come in and check on her because I was gung-ho for that golden medal," Borozdin said.
Moving on in her career as the newly dubbed champion, Borozdin sets her sights on the town of Independence, Missouri where she will be competing in the Silver Gloves tournament— a tournament that can help 16 and under boxers make a strong case for the Olympic team if they win.
Due to the importance of the tournament, Borozdin and her team of coaches have amped up her usual training routine; keeping Borozdin in the gym for close to six hours on a daily basis.
Her training has become solely about sparring in different situations and the intellectual part of boxing, as in where Borozdin should hit at a given moment and on how she should move her body for more power or for defense.
"Boxing isn't just about power, it's about knowing the right spots in the body and how the body works to find the right spot to take that fighter out," Borozdin said.
Borozdin could not be happier with the work, though, as she has truly fallen in love with boxing.
It all stems from her family, specifically her father and her half-brother who both used to fight and got her interested in karate when she was only eight years old.
From there she transitioned into the boxing world, a world she quickly discovered was more contact-based and intense, and yet a world she would dedicate half her life up to this point to.
"It's something that's just in me, it really is in my blood," Borozdin said. "It's a sport where after I fight I just feel stronger mentally and physically."
Borozdin will be fighting on Jan. 30th and with this fight, she hopes to further her career as a young boxer by building up the proper resume to compete for a chance on the 2024 Olympic women's boxing team.
"I can really make a name for myself at this age and that makes me feel psyched," Borozdin said. "I just want to work, and do what it takes to make it to that USA team."