Prospect Chess Team qualifies for state tournament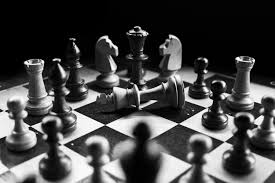 The Prospect chess team is headed to Peoria this week to wrap up an intense season and compete for the state title on Friday and Saturday.

With a current season record of 3-7, the team is looking to test its skills against new competition under the direction of team sponsor, Matt Love.

"Chess is absolutely competitive in a good way but the level of sportsmanship with the opponents, I've never seen anything like it," said Love. "It's fantastic."

The team has honed a competitive edge throughout this season by steadily improving strategy as the tournaments progressed.

At the MSL tournament last month, the team finished at an even two wins and two losses. Just two weeks ago at IHSA sectionals in Highland Park, they went on to defy their 11th seed to finish in 6th place out of a total of 23 teams.

Love credits the impressive rise in single player victories to the teamwork and dedication of each member toward the success of the team.

"I'm impressed by how the team members have helped me with the rankings and the strength order," said Love. "Just the comradery among people on the team is fantastic."

The friendship and fun atmosphere of the team is what senior member Aiden Fujiwara believes is responsible for their recent strong performances.

During Tuesday afternoon practices and Thursday MSL competitions, the team puts a strong emphasis on comradery to bring the players together despite the individualistic nature of the game.

Although only the 10 strongest players of the PHS chess team will have the opportunity to compete in state for the chance to make it to the final round, Fujiwara predicts that the resilience and work ethic this season has garnered will drive greater success next year.

"I think we're still in a transition year, but even though we're transitioning we are still a strong team," Fujiwara said. "I feel pretty good about going to state."