BULLS 1998 CHAMPIONSHIP CAPS OFF THEIR 'LAST DANCE'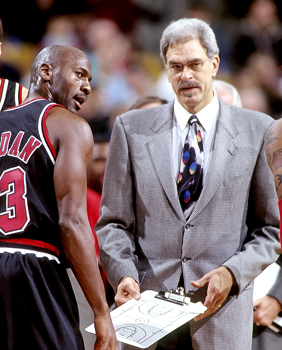 "I'm back," were the only words Michael Jordan said when he came out of retirement for the end of the 1995 season. Episodes seven and eight of "The Last Dance" focused heavily on Jordan's first retirement, his baseball career, his father's death, the 1996 Bulls' record setting year and much more.
During the 1995 season Jordan wanted a 'new beginning' so he wore the number 45, which was also the number he wore during his short lived baseball career. Jordan wanted to play baseball mostly because of his dad. When his father passed away, Jordan felt as if he needed to play baseball for his dad.
When the MLB had a players strike, Jordan thought it was the right time to start up his basketball career again. Jordan joined around March and wasn't necessarily as good as he once was. He had to re-train his body to become a basketball player again.
The Bulls made it to the conference semifinals that year but lost to the Orlando Magic with their new star and former Bull: Horace Grant. Jordan then made it his mission to come back and beat them.
During the offseason, Jordan shot Space Jam and in between shooting he'd have an insane workout routine. He'd invite fellow NBA players to scrimmage, which I thought was awesome seeing all the NBA legends at Warner Brothers studio playing a pickup game of basketball. 
When the 1996 season rolled around the Bulls' were in better shape than ever. They had broken the record for most wins in the regular season with a record of 72-10. They pretty easily made it through the playoffs and played the Seattle Supersonics in the Finals. Supersonics head coach George Karl made a poor decision the night before game one of the finals.
If "The Last Dance" has taught me anything, it's do not give Jordan anything. Do not give Jordan anything at all he could use as motivation. Karl did give Jordan something to use.
When Jordan was at dinner he saw Karl and he did not come over to say anything to Jordan, which made him mad. Jordan used that as fuel and had a dominant first three games against them. The Supersonics were able to put up two games against the Bulls once defensive player of the year Gary Payton guarded Jordan,
Their effort wasn't enough as the Bulls still won on Father's Day. Them winning on Father's Day was extremely emotional for Jordan, as the show depicted him sobbing on the ground after winning, as this was his first finals win without his dad.
These episodes depicted Jordan as somewhat of a bully, as he was a jerk to his teammates in order to push them to be better, but after seeing him crying like that it's hard to imagine him as a bully. 
On May 23, the final two episodes of "The Last Dance" were aired. While this was a bittersweet moment, as I was excited to see how it ended but I don't want it to end, I did enjoy these last two episodes.
Episode nine and 10 dove into a lot of interesting topics that led to the Bulls' 1997-98 championship. To me, what was one of the most interesting things to learn about was Jordan's "flu game." In game five of the 1996-97 NBA finals, the Bulls were up against the Utah Jazz and before the game Jordan woke up extremely sick. 
He stayed in bed all day and still managed to play that night. He had one of his best games ever scoring 38 points. The night before Jordan had ordered a pizza and what was suspicious about it was the fact that five guys showed up to deliver the pizza. Why would five people need to bring one pizza? The rumor is that they did something to the pizza and gave Jordan food poisoning, but we might never know the truth.
Another interesting but sad part of the show was the death of Steve Kerr's father. It reminded me of learning about Jordan's father's death and how sad that was. It's a tough thing to watch someone talk about losing someone like that. 
On a more light-hearted note, the show finally gets to the 1997-98 finals, the moment we have all been waiting for. It was a tough task for the Bulls to get there: as they had to beat Reggie Miller's Indiana Pacers in a tough seven game series. 
The Bulls had a tough battle with the Utah Jazz, once again, as Karl Malone and John Stockton seemed better than ever. What didn't help was Scottie Pippen's back injury in the later games. Jordan had to pick up some extra minutes in those games and he didn't let them team down. With roughly 16 seconds on the clock Jordan stole the ball from Malone and took it up court.
The Bulls were down 86-85 and it was up to Jordan. This is where one of Jordan's many iconic shots came from as he started to drive on Bryon Russell and stepped back and nailed the shot for the lead. The rest was history as the Bulls completed their second three-peat.
Jordan believes they could have won one more after that, if Jerry Krause and Jerry Reinsdorf didn't break up the team, and I believe they could have. Obviously they didn't get that chance as they brought in a new coach, Jordan retired again, Pippen was traded, Rodman was released and they went back into rebuilding.
Overall I thoroughly enjoyed this series and I looked forward to each episode every Sunday. I believe this definitely did their "Last Dance" justice, and then some. This show was exactly what all sports fans needed during these tough times.