LANGUAGE IS NOT A BARRIER REGARDING MEDIA AROUND THE WORLD
The 92nd Oscars best picture award was given to the movie "Parasite" directed by Bong Joon-ho. This movie was the first in a foreign language to ever receive the award, and it was the first South Korean film to win an Oscar in any category. During Bong's acceptance speech he said, "Once you overcome the 1-inch-tall barrier of subtitles, you will be introduced to so many more amazing films." 
People often dismiss movies, music, and TV shows if they cannot sonically understand the script or lyrics of the media being consumed. Although, the art of filmmaking and music constantly proves closed minds wrong when a language is translated into a universal message. Here are three examples of media that each have a strong message which can resonate with people who come from all over the world.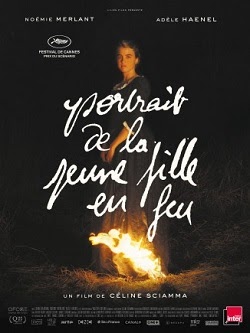 "Portrait de la jeune fille en feu"
A flame in motion is hard to cap
ture through art when it exists within a human being. Marianne, a painter, travels to paint the wedding portrait of Héloïse,
a woman who has no choice but to marry. Every painter who had been hired gave up on painting Héloïse, which Marianne soon learns when she meets her destination. Each day Marianne observes Héloïse after being told that the painting must be a secret from the subject. The 2019 film "Portrait de la jeune fille en feu" which translates to "Portrait of a Lady on Fire" introduces Héloïse when Marianne's portrait is pulled out of storage and observed in a room full of artists. In the painting, Héloïse walks away from the observer toward the only bright portion of the sky with the back of her dress on fi
re. Marianne's eyes meet the painting and her heart beat makes it hard for her to speak as memories from the time it was painted all come flooding back to her at once. The look in her eyes as she is suddenly engulfed by the past introduces the story of an artist falling in love with her subject. This movie shows love in many forms including ongoing remembrance and observation. Through a distinctive lens, this movie provides a new perspective of living in each moment to the viewer through the movie's soundtrack, cinematography, and script. Each shot of the movie captures what can be felt if you take time to observe the world around you.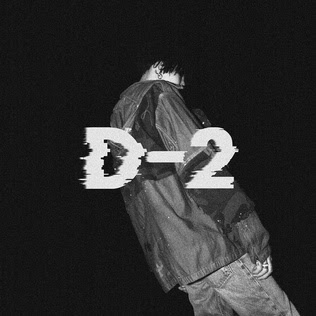 "28" by Agust D featuring NiiHWA
South Korean Rapper Min Yoongi's second studio album  D-2, under the name Agust D, focuses on the current view he has of the world around him. The album brings light to many different hardships people experience through life. The song "28" reflects on the thought of realizing that you are growing up. The song was written when Yoongi was at a hotel awake due to the time change from being on tour. He looked outside and all of the thoughts encompassed within this song came rushing to his mind all at once. During the chorus of the song one of the lyrics translates to, "now I've become an adult who finds it hard to grasp my dream a
nd that's growing up". This entire album is a documentation of his life at the time, which is apparent through the themes of each song. There are a lot of issues that many people do not bring light to, and this album speaks about issues that individuals can relate to from a unique perspective. D-2 is one of my favorite albums of all time considering how much a lot of the lyrics personally resonate with me. Finding music that makes you feel understood is not always easy to find, and
this album could make people feel a lot less alone in the world around them.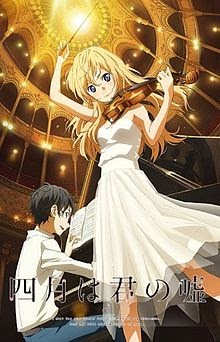 "Shigatsu wa Kimi no Uso"
Kousei Arima glanced at the dust piling on top of the piano which he had not played since his mother's death. He lost the ability to hear his music out loud ever since her passing. Whenever he plays, it feels like he is drowning with no ability to save himself. As he sinks down without control, the notes on the staff of his music disappear. A glance at a piano brings him inside of his head as he is weighed down by his repressed memories. This is until he meets a free-spirited violinist who has a passion for music that rings through each note she plays. The anime "Shigatsu wa Kimi no Uso" translated to "Your Lie in April" captures music in a bright light through both sound and visuals that pull the viewer in and out of Kousei's mind. Each character has a unique story that reflects the core of who they are. Kousei begins to see in color and shares that experience with the viewer as he is pulled out of his mind and into the present with the help of a few guiding hands. As soon as I started 
"Shigatsu wa Kimi no Uso" I finished the entire show the next day finding myself lost inside of each character's story. I really resonated with a lot of the character's experiences and feelings which was sincerely comforting. Although I have always loved music, this anime was able to add to that love already existing for music within my heart as each classical song played.