IHSA ANNOUNCES NEW HIGH SCHOOL SPORTS SCHEDULE
On Jan. 27, the Illinois High School Association announced the new high school sports calendar for the remainder of the 2020-21 school year. The new schedule is essentially an adaptation of the original schedule announced in July and comes amid a 180° turn from the Illinois Department of Public Health regarding high school sports.
The new schedule is available below, courtesy of the IHSA website.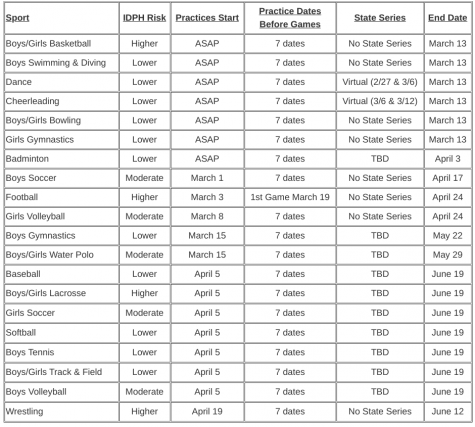 There are notable changes. The first is that the sports originally slated to compete this winter from Nov. 16 to Feb. 13 have all seen their seasons extended. This is because all of these sports are yet to have any competitions, as they recently resumed practicing for the first time since November. The sports originally scheduled to compete in the spring season window from Feb. 15 to May 1 have also seen their seasons slightly altered, with most starting competitions about two weeks later and ending about a week sooner. 
Priority was clearly given to sports traditionally played in the spring season who are now spread out throughout the months of April, May and June. 
"Ultimately, the Board adhered to its stated goals throughout the pandemic: providing an opportunity for every IHSA student-athlete to compete safely this year and maximizing opportunities for traditional IHSA spring sports after they lost their entire season a year ago," IHSA Executive Director Craig Anderson said in a press release. 
Those spring sports who lost their season last year due to Covid-19 all have seasons over two months long, which is much closer to a traditional season.
For high-risk sports like basketball and football, attention now turns to Covid-19 metrics which determine the level of competition allowed. Illinois has a Covid-19 metric level system in which regions progress from Tier 3 to Tier 2 to Tier 1 to Phase 4 to Phase 5. Currently, just one of the 11 health regions is in Tier 2, five regions are in Tier 1, and five regions are in Phase 4. 
"We still have regions of the state that need to make strides in order to be able to play basketball this winter," Anderson said. "That underscores the importance of our schools following all the mitigations and precautions. We need to maintain a positive trajectory not only to get winter sports going, but to make sure we do not have any regions regress before spring and summer sports have their opportunity. We can all do our part by wearing a mask and socially distancing."
One of those schools Anderson mentioned where basketball is still in jeopardy is Prospect, which resides in Region 10. In our health region's current level of Tier 1 only intrasquad practices are allowed for high-risk sports. Below is a graphic of the updated IDPH guidance from Jan. 22 regarding sports competition levels based on Tiers and Phases, courtesy of the IHSA website.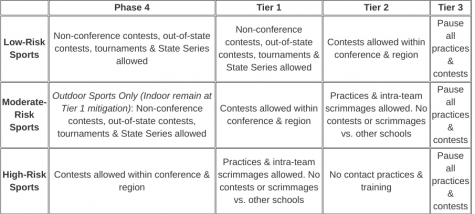 To move into Phase 4, which would allow all sports to compete in some form, Region 10 would need to see its 7-day test positivity rate drop below 6.5% for three consecutive days. A graph from the IDPH website of Region 10's positivity rate, which currently sits at 6.9%, is available below.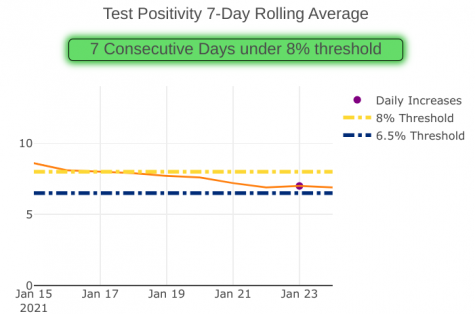 Overall, this year has been quite the rollercoaster for high school athletes. On July 29, the IHSA announced a new four-season sports schedule for the 2020-21 school year. This change moved boys soccer, girls volleyball and football to the spring season, and moved some sports traditionally played in the spring into the newly created summer season. All of the low-risk fall sports were able to successfully have a season, but none had a full state tournament. 
Then, on Nov. 17, Pritzker announced that all of Illinois would move into Tier 3 and all high school sports would be shut down. This came as the IHSA was trying to plow forward with the winter sports season–including basketball which the IDPH did not allow at the time. However, Pritzker's Nov. 17 announcement was adhered to and high school sports have been shut down since.
Then, most importantly for the current situation, the IDPH updated their sports guidance on Jan. 22 and created a path for the return of high school sports. This was the first time that the IDPH provided metrics that determined different levels of competition, something the IHSA had been asking for since the fall. Since then, many of Illinois's 11 health regions have rapidly progressed through the Covid-19 levels, leading to the current situation of a whirlwind of changes regarding high school sports.
Currently, 25 high school sports seasons are slated to compete over the next four to five months. There is no promise of what Covid-19 metrics will look like at the time of each respective season, but the IHSA is clearly pleased to get high school athletes back on the field regardless.
"We are excited to channel our energy into creating as many positive experiences for Illinois high school students as we can between now and the end of this extraordinary school year," Anderson said.