Old Meets New: Comparing Justin Fields and Mitchell Trubisky
Bears fans across the world began to rise to their feet as Justin Fields fell throughout the 2021 NFL draft.
After the Lions, Panthers, and Broncos all decided to pass on the 6'3 Ohio State product, Bears GM, Ryan Pace, elected to leap nine spots to nab their quarterback of the future. The trade sent the Giants two first-rounders, a fourth-round pick, and a fifth-round pick all in exchange for the 11th overall spot. 
The trade sent Chicago into a frenzy as the Bears looked to end their quest for a franchise quarterback. However, it was only four short years ago that Chicagoland believed they found their leader in 2nd overall pick, Mitchell Trubisky.
As Trubisky signed with the Bills over the offseason, the Trubisky experiment had officially expired and failed. So, as Chicago celebrates,  let's take a second to compare the young buck Justin Fields to his predecessor Mitchel Trubiskey.
Obviously, Justin Fields was drafted 11th overall and Trubisky 2nd overall in 2017, but what is interesting to look at is their pre-draft stock and trends. For much of 2018 and 2019, Justin Fields was looked at as the 1b to consensus number one pick Trevor Lawrence. 
But, as the 2020 season progressed electric performances from Zach Wilson and Trey Lance sent scouts into a frenzy and begun to put Fields under a microscope. Fields' draft stock began to fall in mocks and eventually came to fruition on April 29. when he bottomed out as the 4th  quarterback taken.
Draft-wise, Mitchell Trubisky was quite the opposite of Fields back in 2017. Trubisky was a player who had only started 13 games for North Carolina, but caught the hype at the right time and ended up as the second overall pick. 
However, it was the Heisman winner Desean Watson who was the consensus QB1 before Trubisky's 2016 season. Steve Palazzo of Pro-Football Focus had him ranked as the first overall pick in his 2017 mock draft along with Chris Burke (Sports Illustrated) and Chad Reuter (NFL.com). 
But, Just like Fields, Watson fell all the way to the 12th overall pick with Trubisky and Mahomes taken before him. Watson has played with a chip on his shoulder ever since and gave the following statement after Trubisky was taken 10 spots ahead of him:
"You're gonna have to live with the consequences that come with it. That's how I see it," Watson said, via NFL.com
Oddly, after his pro day, Fields issued a similar warning to teams placing Mac Jones or any QB ahead of him.
"
"If they do that, then that's on them. I think I'm the best quarterback in this draft. So, if a quarterback gets drafted over me, they just have to live with that decision.
— Justin Fields
The Bears have had to live with a struggling Mitchel Trubisky for four years while Desean Watson thrived in the NFL. So, Bears fans are praying that Fields can bring a chip and fire to this Bear's offense and give them something else to celebrate besides 1985.
Despite their differences in draft stock Justin fields' and Mitchell Trubiskey's stats are surprisingly similar in some aspects. Keep in mind that due to Covid-19 Ohio State played only 8 games last season.
With Trubisky only having started 13 games, Fields has an obvious advantage when compared to Trubisky in yards and touchdowns. Experience was the main difference between these two QBs with Fields having a full 9 game advantage. Fields has a clear advantage on the ground as well, but despite the experience, after comparing each quarterback's final collegiate season there were a few eerie comparisons.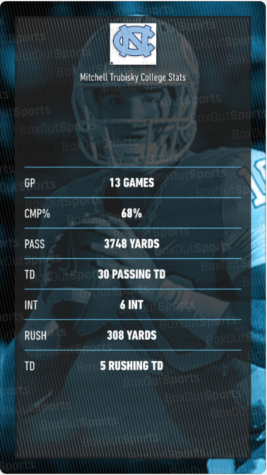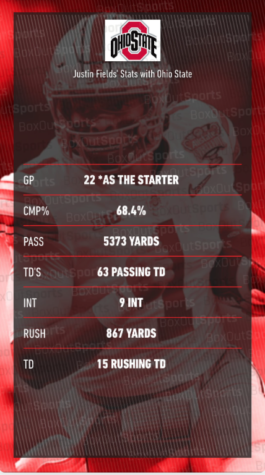 The numbers and statistics cannot be compared one to one just because of the number of games played for each player. However, there are some comparisons that can be made. Trubisky and Fields' completion percentage is nearly identical with each having the same number of Interceptions despite fields playing five fewer games.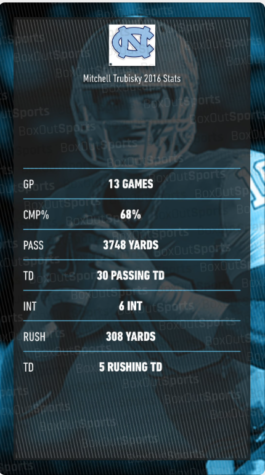 People tend to forget there was a reason why Trubisky was the first quarterback off the board. Trubisky was a bust in retrospect and there are probably going to be a few upset Bears fans that this comparison is even being made. But, nobody can really know what a prospect will do once they hit the NFL gridiron. 
The biggest knock on Fields and ultimately the reason he fell in the draft was his decision-making. Scouts put him under a microscope and tore him down based on that one attribute. Trubisky's one knock was the same: the need to grow as a decision-maker.
Trubisky didn't grow and every Bears fan knows how that story went. Fields' has all the Intangibles to become the next Russell Wilson. It's just finding out if he has what it takes between the ears to become the franchise quarterback Chicago has strived for. 
But for now, Chicago celebrates.