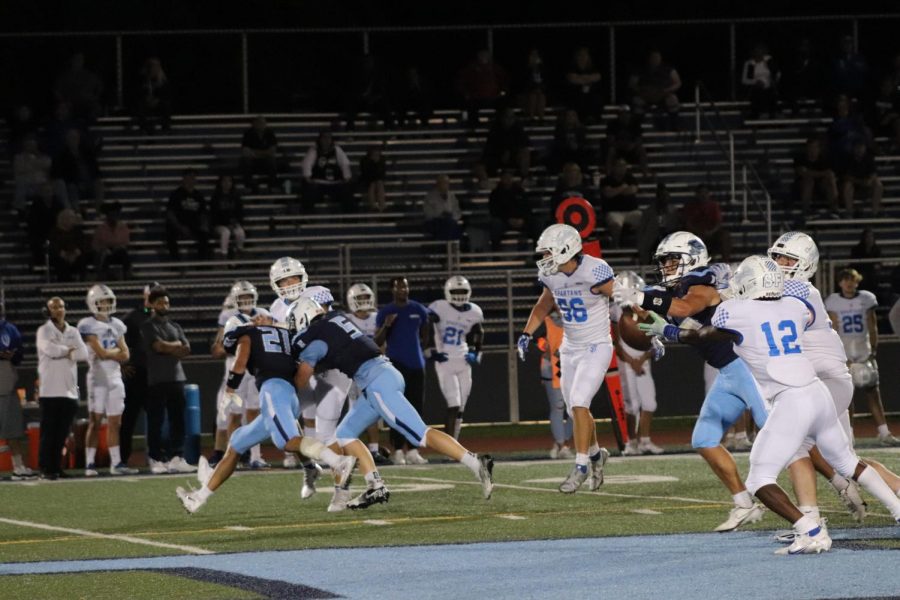 St. Francis Hands Knights First Loss of the Season
September 13, 2021
It was déjà vu. For the second consecutive week the 2-1 Knights started off the game with an opening kickoff touchdown. This time it was senior Peyton Burgh on the house call.
"It was a great way to start the game," head coach Dan Deboeuf said. "We were in a great spot coming out of halftime, had some big time momentum, [but we] just made too many mistakes."
The Knights were leading the 2-1 St. Francis Spartans 17-14 coming out of halftime but just couldn't hold the lead as the Spartans ended up on top with a 34-27 victory. 
"The biggest thing is penalties, we talked about it as a team all week," Deboeuf said. "[We talked] about trying to play penalty free football … all those little things add up and that was the difference."
The Knights had a total of 240 yards of penalties, some of them coming in costly situations. The captains have already implemented something of their own to try and limit penalties. From now on every penalty for the Knights is a 100 yard sprint the following day.
The game wasn't all that bad for the Knights, there were some positives. During the second half, a Decker Anderson interception was able to set up an Owen Walter touchdown reception to put the Knights up 10. Quarterback Frank Covey was also able to pick up a touchdown with his legs in the first half. 
Even the fact that the Knights had a game was a positive in itself. There was a ton of uncertainty after Niles West had to drop out.
"We wanted to be in a close game and get that experience and now we have that to learn from," Deboeuf said. "I think we had a shot to close the game. We were up 10, things were going really well and we just didn't finish."
This game was crucial for the future as it helped the Knights since they may play a similar team or be in a similar situation in the playoffs. They will now look to rebound in their homecoming game against Maine West on Sep. 18.
"It's going to be about our response now," Debouef said.