Class Levels Contribute to Academic Gap
November 6, 2020
Junior Anika Knipple has had a love for learning for as long as she could remember, but it wasn't until she was moved up to the accelerated math and English classes at Lincoln Middle School that she began to see the benefits of being placed on that advanced track. 
"I wouldn't have the same love for math as I do today if I wasn't put into the accelerated math class in middle school," Knipple said.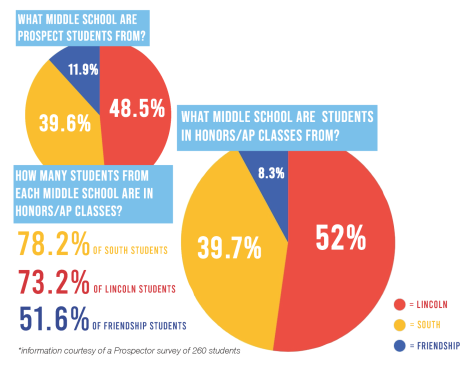 However, she worries that not every student is afforded the same opportunity. The method for separating students based on academic achievement is called the "tracking system." It aims to challenge students but also provide more individualized attention. 
The tracking system has been debated for decades in the public education system. What was initially introduced in the 1960s to account for a dramatically increasing population of immigrant students entering the curriculum at a slower pace, the tracking system has resulted in a divide based on race and economic status.
At Prospect, students from South Middle School are overrepresented in the advanced track with xxx students taking high level classes at PHS, with Lincoln following, and Friendship Middle School trailing the furthest behind (see edge for more). Because of this inequality, some school districts are attempting to remove this tracking system like in Maryland, as reported by the Washington Post.
Knipple was placed into the accelerated math and English classes in third grade at Lions Elementary School due to her prior academic success within the subject and her Northwest Evaluation Association Measures of Academic Progress (MAP) test scores.
Knipple moved up a level in math again in sixth grade after her MAP score from fifth grade made her eligible for that placement opportunity. Friendship, Lincoln and South are all in separate districts with their own tracking policies, but they are generally similar and follow MAP scores to assess students' their academic ability levels for placement in classes. 
"The goal is to continue to challenge students and [understand] when they're ready to move forward in their education," South Principal Jim Morrison said.
Friendship Principal Robert Murphy agrees and feels that it is the responsibility of the school to drive students' motivation in pursuing education.
"It's important that schools have really high expectations for all the students that they have," Murphy said. "We expect our students to achieve, and we challenge all of our students to achieve. [It's important] having very high standards for student success."
One drawback of tracking, however, is that it can be difficult to decide where to draw the line between who gets accelerated and who doesn't, as well as how many accelerated classes to offer, according to Murphy. 
To avoid this, both Murphy and Morrison encourage teachers to observe students closely when recommending them for an accelerated track, so the decision to move a student up is based on more than solely a test score. 
"There's always that wonder of 'How are we making sure we are catching all our kids?"' Morrison said. "And I think it really comes down to … where our teachers are at, and teachers make sure that we are recognizing kids and having conversations about students. It's always a concern; we do our best to try to overcome that."
Knipple feels that being on this track in elementary and middle school made it easier for her to perform well in honors and AP classes in high school because she was used to the fast-paced environment. To her, the biggest difference between advanced track and regular classes is the motivation to learn. She felt that there was more of an expectation to be self-motivated to learn and grasp concepts in the advanced track while that doesn't exist much in the regular track. 
"I think [the biggest difference between the tracks] is mentality and preparing you for the rest of your life," Knipple said. "If you're in the advanced classes, which go faster, they maybe encourage you to think more critically about questions, so I definitely think the tracking system is hurting groups of students [who don't get moved up]. I mean it's definitely benefiting those who manage to make it into honors classes when they're young, but I think it's definitely a detriment to those who are in regular classes [when they try to move up a track]."
Knipple noted that despite the advantages she experiences and the opportunities she had growing up in on the advanced track growing up, it is harder to move up a track later in life as opposed to being accelerated at a young age. Not only does adjusting to a new set of expectations and environment change when transitioning from a regular level course to an advanced one, but in some subjects, that change is a lot more challenging later in one's academic career.
"It may get pretty difficult [to enter accelerated courses], especially for math [later in life]," Morrison said. "You have to have a certain foundation before you can go into [a certain] math [course]. And so, you can't necessarily skip a year because there's a whole block of foundation that you may miss."
Junior Adrian Pyrdol hadn't been accelerated in his time at Friendship Middle School and feels that among his regular classes, especially in elementary and middle school, his peers weren't that serious about academic performance. However, Pyrdol made it a goal to push himself to move up in courses because many of his friends were on that track. 
He decided to move up to honors English and math and AP sSocial sSciences classes in high school. This year he also enrolled in AP Physics, which is his first year not taking a regular science class. Even though he considers this jump a "push," he was able to adjust and is managing well in the course. 
While Pyrdol was surrounded by many people who that were motivated and successful in academics, which encouraged him to do the same, he understands that many other students may not have that opportunity. 
"I feel grateful because my friends would always try to help me if I needed help with something [for school]," Pyrdol said. "And for those who don't have those types of friends, I think it's going to be hard for them [to improve academically]."
Pyrdol's eighth grade English teacher noticed his efforts and was the reason he was recommended to take honors English and AP history courses.  Pyrdol believes that just being placed on that track has helped him immensely now that he is in high school. 
"I think if the teachers see you trying and take strong initiative, they'll put you up [a level]," Pyrdol said. "Some kids indicate that 'I don't really want to participate' …  or 'I don't really care.' I got that opportunity [to move up] because I tried."
Not only do peers affect academic ability, but also this shift in student perspective around education does, too. According to Knipple, being placed in regular classes can possibly have an impact on self-esteem. Before the tracking started, she didn't notice any comparisons occurring between students, at least on an academic level. 
When third grade rolled around and she got moved up, she felt noticed a confidence boost because in the fact that her teachers had recognized her for her academic success; however, now it was apparent that sometimes she was comparing herself to others based on this system. 
Knipple and Pyrdol both feel that whether a student is put into the accelerated track is mostly due to the student's parents. Pyrdol thinks that more so in elementary school that students aren't really focused on education and aren't as driven to perform well academically, so the most likely contributor for a student to move up is because of parental pressures. 
Knipple never felt pressure from her parents to be competitive in school, but she does attribute most of her academic success to her parents. The fact that both parents have college degrees and have given her a life in a wealthier neighborhood has given her access to resources from such a young age. Not only that, but her parents also provided academic support and encouragement to learn more, which is something that Knipple thinks not everyone has the opportunity to receive at that age. 
"I am a good student, but if I wasn't exposed to all these opportunities from a young age [I wouldn't be where I am now]," Knipple said. "Both my parents are engineers, and they both love learning and love school. They place a lot of importance on us liking learning — not learning just to get good grades or to go to college. They want us to really like what we do [in school] and love learning."
A study from Iowa State University concluded that the level of parent education had a positive, direct correlation to their children's academic achievements. 
Because of this fact, Knipple can see an inequality in the tracking system. However, she and Pyrdol think that it is important to allow for an opportunity to pursue their academic goals in a fast-paced environment, which leads Knipple to think that it would be beneficial to start tracking at a later age.
"I definitely think that starting tracking later on would be helpful because it would allow everybody more time to settle out before they just pluck these kids out of nowhere, you know," Kinpple said. "It would allow more kids to have time to find their love of a subject."
Murphy says that a benefit to tracking is to allows for some students to get ahead. This allows them to A result of this is the opportunity to take AP classes in high school to potentially save money or be more proficient in college. D214 introduced an additional track to make college credit classes more accessible to more students with less rigor than AP courses: dual credit courses. 
Morrison points out the fact that he never took any "accelerated courses" or AP classes, but he was still able to pursue his academic goals of getting four college degrees and his doctorate. He emphasized that not being placed in a gifted program or not taking more rigorous classes does not necessarily mean that you won't be successful. 
The priority of the tracking system is to help students succeed; however, it is emphasized by Mossirson and Murphy that it is important not to pressure students to be overwhelmed and pushed too far in subjects that they do not feel comfortable in. The goal of education for Murphy and Morrison is to help students improve their abilities and find a balance in doing so. 
"[It's important] that teachers and parents are working closely together to monitor where their children are at and try to continue to find ways for them to excel," Morrison said. "Everybody's gifted. Everyone's gifted but all in different ways … We just need to find their talents, and then help them develop."