Recap on Marvel's recent releases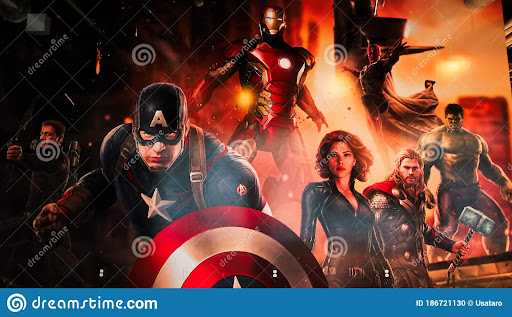 The heroes that have filled our fanatic gauges of minds for the past 90 years: Iron Man, Captain America, Hulk, Black Panther, and Thor; Just a few names that come to mind when you immediately think of Marvel's Avengers. 
On January 8th fans were excited these hero's take action again in the new Disney+ show Marvel's "Legends." This new episodic series is the newest entry to the ever growing Disney+ Marvel collection. In the 26 episodic series, each nine-ten minute episode looks at a different Avenger and the movies they have been in. The show includes episodes about Wanda Maximoff, Vision, Falcon, Winter Soldier, Black Widow, Hawkeye, Drax, just to name a few. With Disney starring the top heroes in the new series, they also have decided to add their popular villains too, like Loki, Zemo, and others. Each episode has 15-20 clips total, with at least one from each movie they have been in. According to sources, IMDb rated it a 6.5/10 while 73% of Google users liked the show. 
But what are the pros of having this series? You get to highlight the lesser known characters, their movies, and for the Marvel fans, who want more and more Marvel movies, but have to wait to see them when they come out in 2023, as the end of phase 4 has come and gone with the release of Black Panther: Wakanda Forever. With that said, the next Disney movie doesn't come out until February 18, 2023 when Ant Man and the Wasp: Quantumania hits theaters. 
With lots of pros, cons always follow; some being, that there isn't really any other dialogue than what's from the movie clips as they cut in and out with suspenseful music playing in the background and, more often than not, they kind of  just re-use film from different episodes, with the addition of random clips that are too preludeful to the actual character. 
I thought that the series was a good way to highlight the lesser known people and a good jumping point that they can use to make more movies. I wish that they would've had at least an interview with the actor so that there is something there besides just the music and the cuts in and out of the movie scenes. I think that the best episode was either episode 3, The Falcon, or episode 4, The Winter Soldier, because they have the best and most interesting stories rather than anyone else. I really like how The Falcon is just a normal dude who isn't that rich and has man made everything he uses, as he makes it himself unlike someone like Iron Man who uses his billions of dollars to make stuff. I'm also a fan of the Winter Soldier because he started off as a normal guy before what happened to him in Captain America: The First Avenger, but when he comes back, he has a robotic arm that was made for him, otherwise he just uses guns. 
The worst episode was Zemo because they didn't have a lot for him and I feel that he was kinda just thrown in there to include a villain that was used for 3 movies, with two being Black Panther. Zemo is able to get inside the minds of people, but that's it. He's not as strong as someone like Thanos or Loki, heck even Ultron who had 1 movie, Avengers: Age of Ultron. 
Legends isn't the only thing that Marvel has released recently, as they also released Guardians of the Galaxy: Holiday Special. The Guardians of the Galaxy holiday special is a nice, feel good family movie that runs about 45 minutes.
It tells the story of how Peter Quill (Chris Pratt) never really celebrated Christmas thanks to Yondu being a grinch on board his ship with a young Peter. The movie starts in the past, as a cartoon, before moving to the present day where Peter does day to day work on the skull looking planet they live on. From the beginning, Mantis (Pom Klementieff) and Drax (Dave Bautista) notice that something is wrong with Peter. After some thinking, Mantis and Drax think of the perfect thing to get Peter for Christmas: legendary actor Kevin Bacon. Mantis and Drax go searching all around Los Angeles for Bacon. After lots of searching they find Bacon, but not without some trouble, as they attempt to bring Bacon to the planet to surprise Quill. 
Sources from IMDb rate it a 7.0/10 with 81% of Google users liking the movie, and I would 100% agree with this. I feel that it could've been longer, but the post credit scene really gives you a nice chuckle as the movie ends. This is a great thing for Marvel fans as small little movies and specials like this give something for fans to watch and talk about while they wait for the big movies to come out, and this is a great way to get fans ready for Guardians of the Galaxy Vol. 3, which hits theaters May 5, 2023, which will be the first Guardians of the Galaxy movie without Gamora (Zoe Saldaña). 
Marvel has really been stepping up since Avengers: Endgame and the killing of Iron Man. Hopefully Marvel keeps rolling right through everything as fans can't wait for Phase 5 to kick off in February of 2023.