Ideas circulate for new courtyard upgrades
With construction on the new floor to ceiling windows at Prospect all finished for about two years, there is something more noticeable through the glass … THE COURTYARD. It's the large, open space, in the middle of the campus that has a couple of trees in it. You can see it through all of the windows on the inside of the building, and currently at this moment it has absolutely no use whatsoever.
After looking at this courtyard for four years from just about every single place at Prospect, the same two questions always come to mind. Why do we have a courtyard and why are students never allowed to enter it? 
Associate Principal Frank Mirandola said that a lot of schools at the time when Prospect was constructed had these types of courtyards which would be used as a space that people could look at but not touch.
Mirandola went on to say that the courtyard has never been used for much at Prospect. However, he added that there has been a history of animals inside the courtyard such as ducks, fish, and even peacocks.
I think it is key to point out that Prospect opened in 1957. So, nothing useful has ever been put into the courtyard? It doesn't make much sense. Especially considering the benefits that an outdoor, green space could give us at Prospect.
According to a study conducted by the Environmental Protection Agency (EPA), they found that the more green space people are exposed to can help reduce stress. Therefore it can also lead to improved mental health and a reduction of heart disease and death.
 Almost every single high schooler has had stress at one point or another. Whether it's because of homework, a test or because you have to write two essays at the same time. Clearly there is an abundance of benefits to having a green space out in the courtyard.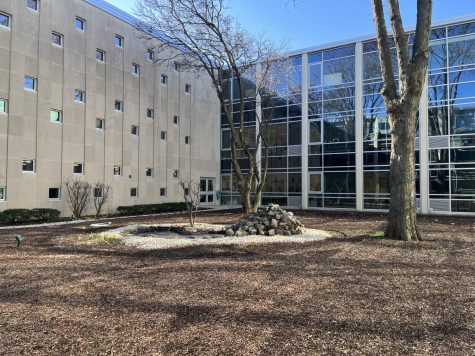 With a whole lot of positive impacts that could come with a new, nice outdoor courtyard for students, the key question now really is why haven't they done anything with the courtyard?
According to Mirandola the answer to that question is pretty simple though.
"The last two summers we've literally torn the walls off the building exposing literally the classroom to the outside,and in the process of doing that, you're going to destroy a lot of stuff in there because of scaffolding, garbage…" Mirandola said.
However, now that the construction is finally done Mirandola believes that serious discussions about adding to the courtyard can take place.
"I think this is really kind of the first time we can really kind of try to imagine some sort of outdoor living space for Prospect High School," Mirandola said.
So what does the future hold for the new courtyard? I don't think anybody has the answer to that. For the first time in Prospect's history they have this "blank canvas" in the courtyard that they are able to decide what they would like to put out there.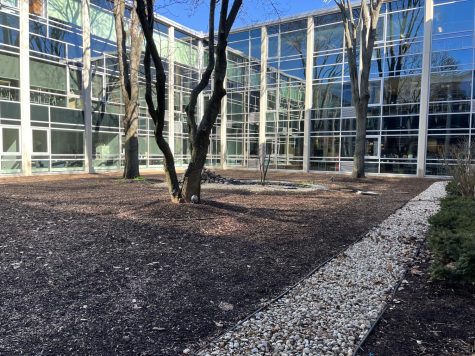 Personally, I think it would be cool to make a bowl type seating area in the center and then put tables and chairs on the outside so that it can be used as both an outdoor classroom and a seating area for lunch.
There would be an added benefit to having an outdoor multipurpose space. During the lunch periods it can be used as a space for students to go out and just take a break if they need it. Additionally, when it's not a lunch period, the outdoor space could be used as an outdoor classroom, so if a teacher wants to hold a lesson outside they would have the option to be able to in a controlled, safe environment.
With us moving out of the future, we come back to the sad present where we are not able to enter the courtyard. Hopefully long after I've left, Prospect students will be able to smell that fresh air while being watched by hundreds of students. 
But for now, I will keep looking out the window and think about what the future holds. (Maybe they'll bring back the peacocks because that would be cool:)